Achievements
James Thurber Receives APSA Award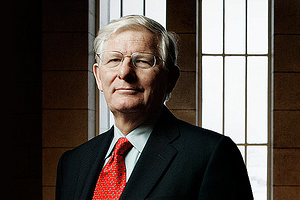 Professor James Thurber, director of the Center for Congressional and Presidential Studies at SPA, has been awarded the 2010 Walter Beach Pi Sigma Alpha award.

The honor is given annually by the National Capital Chapter of the American Political Science Association to a political scientist who has made a substantial contribution to strengthening the relationship between political science and public service. Past Walter Beach awardees have included Senator Paul Wellstone (D-WS); Norman J. Ornstein; Representative David R. Obey (D-WI); Representative David Price;former ambassador to the UN Jeane J. Kirkpatrick; former governor of Maryland Parris N. Glendenning; and former secretary of Health and Human Services Donna E. Shalala. 

James Thurber, University Distinguished Professor of Government, has been on the faculty at American University since 1974 and was honored as the AU's Scholar/Teacher of the Year in 1996. He is a Fellow of the National Academy of Public Administration and is the author of numerous books and more than eighty articles and chapters on Congress, congressional-presidential relations, interest groups and lobbying, and campaigns and elections. Thurber has worked on four reorganization efforts for committees in the U.S. House and U.S. Senate from 1976 to present and has served as legislative assistant to U.S. Senator Hubert H. Humphrey, U.S. Senator William Brock, U.S. Senator Adlai Stevenson III, and Representative David Obey. Among his many endeavors he has worked with Senator Barack Obama on ethics and lobbying reforms and has lead the Washington DC based Human Affairs Research Centers of the Battelle Memorial Institute and served as acting Dean of the School of Government and Public Administration at American University. As a consultant, he has worked with the Los Alamos National Laboratory, the Sandia National Laboratory, and the Pacific Northwest National Laboratory, and other federal government departments.

The award is named for a longtime leader in the American Political Science Association. Walter Beach was instrumental in the development of the early international activities of APSA, directed the Congressional Fellowship Program and served as editor of PS: Political Science and Politics. Beach's commitment to the diffusion of scholarly work continued through his time at the Brookings Institution.

For Thurber the award holds personal significance. He recalls how his mentor Walter Beach brought him to DC.

"On a visit to Washington State University in 1972, Walter encouraged me to apply for the APSA Congressional Fellowship. Walter's persuasion and my good fortune to be selected as a fellow, transformed my career and our lives. Claudia and I stayed in DC as a result of the fellowship and we remained close to Walter until he passed away. He helped me in so many countless ways and was always a loyal friend, which meant a great deal to me. For his friendship and many other reasons, it is especially nice to be honored with this important award that carries his name."