On Campus
Environmental Leadership: The 2016 William K. Reilly Awards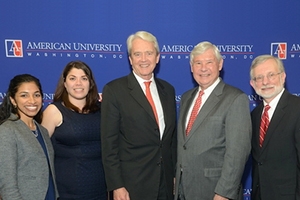 The 2016 William K. Reilly Awards will be held on March 31, 2016. Named after former EPA Administrator and World Wildlife Fund President William K. Reilly, the awards recognize leaders from the private, non-profit and government sectors in environmental and energy policy.
The William K. Reilly Awards will be headlined by award winners Mindy Lubber, President of Ceres, and Robert Perciasepe, President of the Center for Climate and Energy Strategies, as well as by keynote speaker Felicia Marcus, Chair of the California Water Resources Control Board.
Past awardees have included included Deerin Babb-Brott the Director of the White House National Oceans Council (2013), Fred Krupp, President of the Environmental Defense Fund (2015), and Nse Obot Witherspoon, Executive Director of the Children's Environmental Health Network (2014), among others.
The event also recognizes exceptional students aspiring to work in the field of environmental policy, through the William K. Reilly Scholarship. Winners of the scholarship have gone on to land instrumental positions in the environmental industry, including at the Environmental Protection Agency (EPA).
"Winning the Reilly award has been a great experience," said 2014 William K. Reilly Scholarship winner, Kavita Mak. "I believe that this award helped me get my current job as an environmental engineer at the U.S. EPA. Overall, I think it is an excellent opportunity for any students interested in environmental policy." Ms. Mak graduated from the School of Public Affairs' Master of Public Policy program (SPA/MPP) in 2015.
Space at the Reilly Awards is limited. Please contact Jake Assael at ja2953a@american.edu for event information. To stay current on news regarding the William. K. Awards, "like" the American University Center for Environmental Policy on Facebook and follow Professor Daniel Fiorino, the center's director, on Twitter.