Achievements
Two Environmental Policy Students Awarded William K. Reilly Scholarships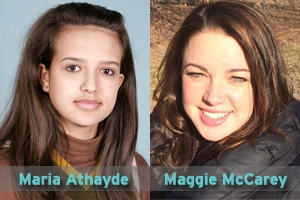 On Thursday, March 31, the School of Public Affairs (SPA) Center for Environmental Policy will award first-year graduate students in the School of Public Affairs, Maggie McCarey and Maria Athayde, with the William K. Reilly Scholarship.
McCarey, a graduate of Northeastern University, with a bachelor's degree in environmental geology and environmental studies, has previously served in the Massachusetts Department of Environmental Protection and the Massachusetts Department of Energy Resources. Now pursuing her Masters in Public Policy at American University, she has focused on energy efficiency and climate mitigation policies.
Athayde, is originally from Brazil, and holds a bachelor degree in International Relations from Mt. Holyoke College. While working towards her Masters in Public Administration she is combining her passions for environmental policy and international affairs, with a focus on sustainability.
These outstanding students follow previous scholarship winners who have gone on to begin careers in the field of environmental policy, in positions at the Environmental Protection Agency (EPA), the National Governors Association, and the U.S. Forest Service and Deloitte.
The scholarship will be presented during the 2016 William K. Reilly Awards, to be held at the Abramson Recital Hall in the Katzen Art Center. The event will also feature award winners Mindy Lubber, the President of Ceres and Bob Perciasepe, President for the Center for Climate and Energy Solutions, as well as key note speaker Felicia Marcus, the Chair of the California State Water Resources Board.