Environment
The Future of Water—Everglades Foundation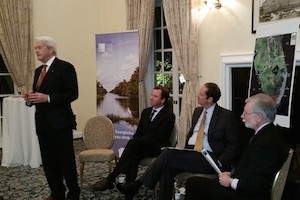 On Wednesday, December 10, the Center for Environmental Policy at American University's School of Public Affairs hosted a dialogue with state and local water policy experts in Miami, Florida, to highlight the progress and challenges facing the restoration of the Everglades as well as water resources throughout the US. Opened by School of Public Affairs Dean Barbara Romzek and moderated by Daniel J. Fiorino, Director of the Center for Environmental Policy, the discussion featured speakers William K. Reilly, State Senator Joe Negron (District 32) and Eric Eikenberg, CEO of the Everglades Foundation. The dialogue opened with a conversation about efforts to apply market based solutions to environmental problems with Mr. Eikenberg introducing the Everglades Foundation's Grand Challenge, a new $10 million prize that seeks to stimulate innovation and find solutions for reducing phosphorous in the Everglades. Mr. Reilly discussed New York City's market based approaches to protecting its drinking water by investing in land conservation. This investment, while substantial, allowed New York City to fund land use planning and land conservation in Catskills communities instead of putting those funds toward hard infrastructure, which would have been both more costly to build and maintain and less beneficial to upstate communities.
According to Senator Negron, "For every dollar we invest in the Everglades, we get $4 in return." He added "we cannot sell homes on a waterfront polluted with toxic algae," referencing the 2013 toxic algal blooms stemming from an overflowing Lake Okeechobee which dumped millions of gallons of polluted water into the rivers and estuaries in Central and South Florida. He shared state leaders' goal of bringing 100 million tourists to Florida to spend time in nature, but added "fishing relies on clean water and a healthy Everglades." Senator Negron added that tying Everglades restoration to real estate and tourism has helped to build the bipartisan support that the Everglades enjoys. He added,"our water and the coasts make Florida a special place" and that Floridians value our water resources, making support for the Everglades a unifying cause. However, he added that hundreds of millions of dollars have been invested at the state level, but the federal government has not fulfilled its commitment to this national treasure.
Mr. Eikenberg stated, "the Everglades restoration requires a very complex replumbing—but as large as this project is, we are seeing great success." He told the story of the Army Corps of Engineers dredging and channelization of the Kissimmee River in the 1940s, that Governor Bob Martinez reversed by allowing the river to be restored to its natural, meandering state. This was a huge accomplishment for both the ecosystem and tourism as well and is indicative of what we can accomplish in the future.
The three speakers took questions from the audience regarding elevating portions of the Tamiami Trail to restore natural flows, the outlook for the incoming Congress, and other topics. The event highlighted the unique bi-partisan, multi-stakeholder approach to ecosystem restoration that South Florida has demonstrated through its long term commitment to Everglades restoration efforts and the hopeful future for this national treasure.