Environment
Legislative Priorities and Strategies for Environmental Protection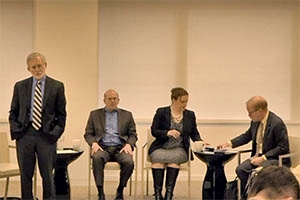 This Spring, the Center for Environmental Policy hosted a forum at Hogan Lovells in Washington, DC, entitled, Legislative Priorities and Strategies for Environmental Protection. This forum featured:
Richard A. Denison, Ph.D., Lead Senior Scientist, Environmental Defense Fund
Amy Duvall, Senior Director, Federal Affairs, American Chemistry Council
Jim Jones, former Assistant Administrator of EPA's Office of Chemical Safety and Pollution Prevention.  
Dan Fiorino, director of the Center for Environmental Policy at American University's School of Public Affairs moderated. 
Speakers discussed the factors and processes that led to the passage of the Frank R. Lautenberg Chemical Safety for the 21st Century Act in 2016, a reauthorization of the 1976 Toxic Substances Control Act signed by President Ford. According to Amy Duvall, the American Chemistry Council, EPA and industry and environmental stakeholders released a set of high level principles to guide the development of a modern bill, with federal preemption as a unifying goal. According to Jim Jones, EPA's priority was the use of risk-based safety standards, and the fact that the new law achieved this goal was a remarkable achievement.
Bipartisanship was a major factor in advancing the bill. Indeed, at a time when polarization in Congress is a major source of national frustration, the story of this law demonstrates that cooperation is possible under the right circumstances and with the right leadership. Senator Frank Lautenberg introduced a reauthorization of the Toxic Substances Control Act three times on his own. Only in 2013, when he jointly introduced a reauthorization bill together with Senator David Vitter, did the bill gain the momentum necessary to move forward toward passage.
Several factors help in explaining how the law was able to gain passage. One is that, in response to the deficiencies in the 1976 law, many states were enacting their own chemical laws and policies, and this created difficulties for the industry. The chemical industry was motivated to modernize the old law and accept enhancements in the regulatory structure because of their interest in having one national regulatory regime rather than many divergent state regulations.
From the public health perspective, the new law does correct some of the deficiencies in the 1976 law, especially with respect to EPA's authority to collect data, the regulation of existing chemical risks, the availability of data, and the process for setting priorities among chemicals.
In brief, there was sufficient interest in moving to more effective regulation that also established a high degree of national consistency for the industry. Those conditions, combined with the right kind of leadership, made the passage of the new chemical safety law possible. The challenge now lies in the implementation.
Watch the full discussion below.