Environment
Center for Environmental Policy Seeks William K. Reilly Interns for Fall 2014 Semester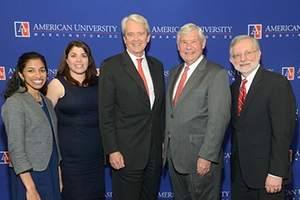 The Center for Environmental Policy (CEP) is pleased to accept internship applications for students in the School of Public Affairs' Masters of Public Policy and Masters of Public Administration programs for a fall 2014 internship placement.
The internship program aims to build the capacity of the next generation of environmental leaders by matching interns with an environmental non-profit organization for one semester.
For the fall 2014 semester, CEP is working with the Children's Environmental Health Network and one additional environmental organization to place William K. Reilly interns. CEP will place two additional interns in the winter 2014 semester. Interns will work 20 hours per week and will be paid a stipend of $2,000 for the semester.
Interested students are encouraged to apply as soon as possible. Click here to apply.
Please contact Danielle Miller Wagner with any questions at djmwagner@american.edu or 202-744-6506.