CEP Seeks Nominations for the 2017 William K. Reilly Awards for Environmental Leadership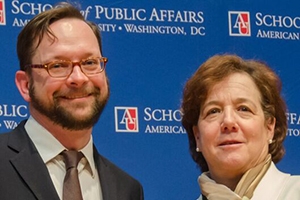 The fifth annual Reilly Awards, named in honor of one of the most respected leaders in U.S. environmental policy, will be given to two individuals at a ceremony on March 30, 2017, at American University in Washington, D.C. Nominations will be accepted through November 11, 2016.
"The Center for Environmental Policy seeks to promote individuals who demonstrate the qualities that exemplify Mr. Reilly's career: pragmatic problem-solving; leadership with integrity; innovation and creativity; mentorship of future leaders; and a focus on getting results," says executive director Dan Fiorino. "For the 2017 awards, we hope to highlight both US-based and international leaders from state, tribal and local levels of government, and from community-based organizations."
The Reilly Awards will be evaluated against the following criteria:
Provides effective leadership over a sustained period of time and/or is contributing influential new perspectives in environmental, energy, or sustainability issues in the United States
Contributes to innovations in environmental solutions or new approaches to environmental or energy policy
Demonstrates the ability to engage and inspire others in achieving significant results
Works across the public, private, and non-profit sectors to solve problems in an inclusive and bi-partisan manner
Inspires or mentors early-career professionals
Award decisions will be made by a subcommittee of the Program Advisory Board of the Center for Environmental Policy.