Achievements
2015 William K. Reilly Scholars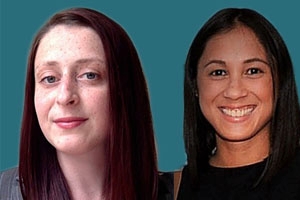 The Center for Environmental Policy congratulates Jennifer Hatch, SPA/MPA '16, and Amy Purpura, SPA/MPP '16, on being selected as the 2015 William K. Reilly Scholars. This merit scholarship is awarded annually to MPA and MPP students in the School of Public Affairs who demonstrate a commitment to a career in environmental or energy policy as well as academic achievement. Jennifer and Amy will receive their awards at the third annual William K. Reilly Environmental Leadership Awards event taking place on Thursday, March 26.
Jennifer Hatch is a first year MPA student pursuing interests in local government and environmental management. After graduating summa cum laude from the College of William & Mary with a degree in government and environmental policy, she began her public interest career with the Connecticut Public Interest Research Group as a consumer advocate and grassroots campaign office director. Jennifer moved to Washington, DC to serve as the National Director of the PIRG Energy Service Corps where she managed a multi-state AmeriCorps program working with college student volunteers to promote energy efficiency. This work sparked her interest in working at the local level on environmental issues from transit to renewable energy. Currently Jennifer manages a network of nonprofit organizations at the Catalogue for Philanthropy.
Amy Purpura is a first year MPP student with a concentration in quantitative methods and environmental policy. For her undergraduate education, she attended West Virginia University and received her B.A. in political science and philosophy with summa cum laude honors. After graduation, she began working as an intern and reporter for the Public Policy Foundation of West Virginia where she wrote about local and national issues and their policy implications for citizens in the state. Last semester she worked at the Children's Environmental Health Network as William K. Reilly intern. While working there, she examined the impact of environmental hazards on children's health and development in childcare settings and from a larger public health perspective.