Contact:
Eileen LeFurgy
Program Coordinator
Center for Data Science
4400 Massachusetts Avenue NW
Washington
,
DC
20016-8012
United States
Fellows associated with the center, from American University and elsewhere, participate in the life of the center by helping organize events, supporting the journal Political Analysis, and participating in research endeavors. We welcome requests from the greater campus community of students who are interested in various elements of data science.
graduate student fellows
Simon Heuberger
I am a fourth-year PhD candidate in Political Science at American University in Washington, DC, with concentrations in American Government and Quantitative Methods. My research focuses on the statistical advancement of survey methodology tools and the psychological underpinnings of public opinion. I also conduct data analysis on causal inference and work as the official replicator for Political Analysis. I earned a Magister degree in English Linguistics, Communication and Business from the University of Munich. I followed this up with a Master's degree in Social and Political Thought at the University of Warwick in the UK. In 2009, I spent one year abroad at the University of Adelaide in Australia. The son of cosmopolitan parents, I grew up in Lagos, Nigeria, and Cairo, Egypt, attending German schools there. These experiences have enriched my life beyond belief, and I am grateful for them every day.
Kumail Wasif
Kumail earned his BA in International Relations from the University of Bradford and MA in International Studies from the University of Denver. He worked as a research consultant at the Pardee Center for International Futures before beginning his doctoral studies at the School of Public Affairs at American University. Kumail focuses on quantitative methods and comparative politics. He is interested in models that predict the onset of civil war, insurgency and terrorism. Kumail's responsibilities at the Center for Data Science include statistical research, testing and debugging code, and vetting submissions for the methodology journal, Political Analysis. Kumail enjoys hiking with his wife, Angela, and relaxing with their pet rat, Philipe.
Abhishek Regmi
Abhishek is a first-year PhD student at American University, with planned concentrations in comparative politics and political methodology. His research interests are in ethnic and identity conflicts, and institutional design. Before joining the School of Public Affairs at American University, Abhishek completed his BA in Liberal Arts from St. John's College in Santa Fe, New Mexico.
Le Bao
Le is a PhD student in the Department of Government at American University, with concentrations in Comparative Politics and Political Methodology. His research focuses on political behavior and political institutions, especially the interplay between them in the contexts of democracy, authoritarianism, and regime transition. He is primarily interested in applying causal inference and Bayesian methods to questions of political science. Le has also worked as the project assistant and fieldwork supervisor for several public opinion surveys in the United States and China. Before starting doctorate study at American University, Le earned his BA and MA in Political Science from Nanjing University, China. He also spent a year at the Johns Hopkins University Nanjing University Center for Chinese and American Studies for post-graduate study.
Undergraduate Student Fellows
Max Robins
Max is a sophomore at American University studying Political Science and Data Science. Hailing from Long Island, New York, he has experience with political campaigns and advocacy groups, and is interested in social issues ranging from domestic child marriage and gun violence to electoral issues, such as voting rights and minority group disenfranchisement. In addition to serving as a Fellow in the Center for Data Science, Max supports a statistics course as a Supplemental Instruction Leader in the Academic Support and Access Center.
Bijean Ghafouri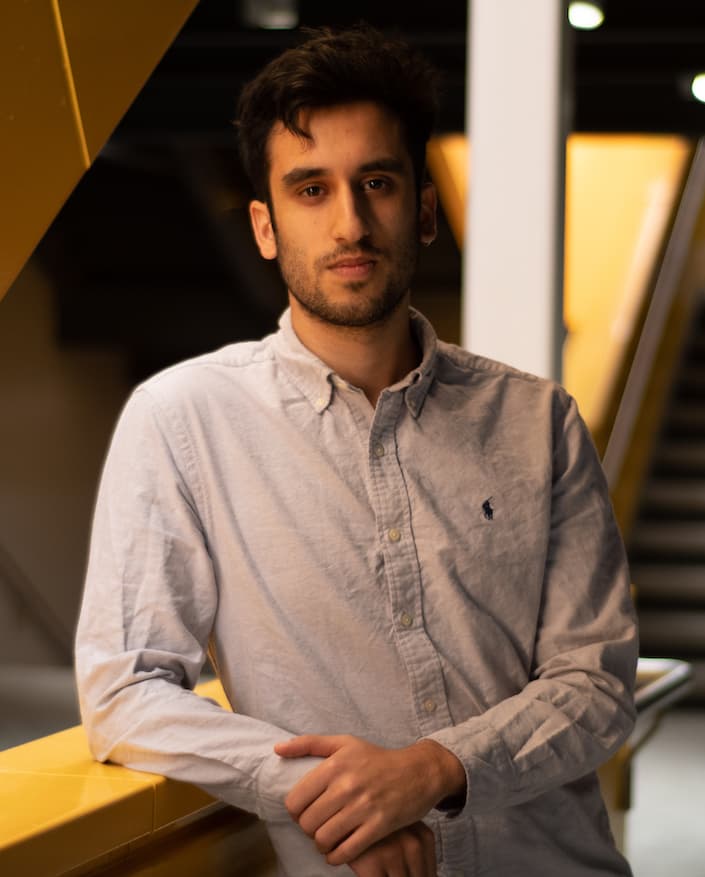 Bijean Ghafouri is a senior undergraduate student from the University of Montreal studying political science. He is currently at American University as a Fulbright-Killam fellow. His research interests lie in political psychology, voting behavior and American politics. Substantively, he is studying authoritarian behavior of progressive voters in the United-States, expressed by race and gender preferences. He is primarily interested in machine learning and predictive modeling. Bijean is also a member of the Canada Research Chair in Electoral Democracy held by Prof. Ruth Dassonneville from the University of Montreal.