Achievements
Recent DPAP PhD receives NASPAA Emerging Scholar Award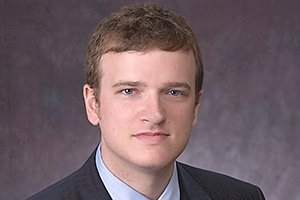 John Marvel, SPA/PhD '12, is one of three individuals selected to receive a 2012 Emerging Scholar Award from the National Association of Schools of Public Affairs & Administration (NASPAA).

The Emerging Scholar Award recognizes PhD candidates and recent graduates who are "exploring the boundaries of our knowledge, developing new methods for advancing our understanding of the public sphere, and seeking answers to new and enduring questions about policy and administration."

The award includes an opportunity to appear on a special research panel at the upcoming NASPAA conference in Austin, Texas. The NASPAA conference is the largest gathering of deans, department chairs, and program directors in the field. Marvel will also be honored during the annual NASPAA awards luncheon.

Marvel defended his dissertation in August and is spending the 2012-13 academic year as a full-time instructor in DPAP. His research focuses on public management broadly, with particular interests in work motivation and turnover among public-sector employees. His dissertation committee was chaired by Prof. David Pitts and included Profs. Jocelyn Johnston, Laura Langbein, and Sergio Fernandez (Indiana University).

NASPAA is the largest membership organization of graduate education programs in public administration and policy, as well as the primary accrediting body for masters programs in the field. AU's MPA, MPP, and Key Executive MPA programs are all NASPAA-accredited.