On Campus
SPA Hosts Second Global Health Forum After Ongoing Interest in 2016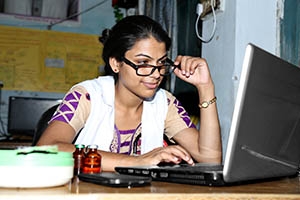 Bringing together scholars from various disciplines who share an interest in global health policy creates a synergy that is gaining momentum.
AU's School of Public Affairs hosted a second research symposium on global health policy in May drew 30 participants from the local DC-Baltimore area, as well as Boston, New York, and as far away as Canada. Launched as a regional gathering for researchers in higher education in October 2016, the expanded spring meeting attracted representatives from non-governmental organizations, think tanks and funding agencies who discussed papers on four panels at the day-long event.
"People come with very different ideas, starting points, and theories," said SPA Professor Jeremy Shiffman, who organized the symposium. "Some come with a problem-solving vantage point, while others from a more critical analysis perspective. It's good to have different perspectives coming together."
The May symposium focused on investigating how power is exercised in the global health field with the aim of building a network of global health social scientists. The group has grown to encompass economists, historians, sociologists, geographers, public health specialists and anthropologists, along with political scientists.
Adam Koon from the London School of Hygiene and Tropical Medicine said the symposium was a valuable way for scholars with works in progress to get feedback and it has the potential to foster mentorships. The meetings provide a "huddle," said Koon, where researchers can share notes every few months and then break out to further their work.
AU's Lauren Carruth, a medical anthropologist and assistant professor in AU's School of International Service, said she learned from the diverse group.
"It's helped in my larger thinking and teaching," said Carruth. "I've added new information to my syllabi today based on what was being talked about."
Radhika Gore from Columbia University suggested a future symposium could produce material for a journal special issue. Others supported the idea of a collaborative product coming from the meeting or posing specific questions to focus on to help drive the research themes.
The papers were varied, but many felt the discussants guided the conversation and sparked robust discussion.
"The synergy with the panels was really great," said Aviva Liu, who just completed her doctorate in SPA.
Johns Hopkins Bloomberg School of Public Health Professor Sara Bennett said it is valuable to build a community where people can reach out to one another between the symposiums. That is best sustained, she suggested, by continuing to meet regularly and organizing from the bottom up and serving as a springboard to other meetings.
Witnessing the interdisciplinary discussion at the symposium was very powerful to donors, said Sharmila Mhatre, deputy director of the Public Health Program at the Open Society Foundations in New York.
"It's encouraging for the future to have actors not just in academia, but in policy and agenda setting, collaborating. I'm really impressed with the papers," said Mhatre. "Those in academia have a role to play in activism and change for global health systems."
At the conclusion of the symposium, participants pressed for a day-long symposium with colleagues from low- and middle-income counties (in Africa, South Asia, Latin America) in conjunction with the Health Systems Global conference in Liverpool in November 2018.
Jesse Bump from Harvard University was one of several participants who endorsed the idea of expanding globally, but also continuing to collaborate on an organic basis in the U.S. He said participants might be willing to develop shorter papers or co-written papers that could be shared. "We can get a much more coherent group together if we are building on little projects."
Elanah Uretsky from George Washington University, who presented at the symposium on China's role in global health, said she hoped the network may lead to some research partnerships.
"It's a really great opportunity for us to get together and share our common interests and figure out how we can engage the dominant global health discourse so we can help move forward in our work," said Uretsky