On Campus
Williams-Childs Named SOC Student Worker of the Year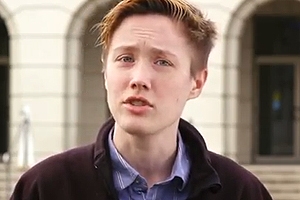 Brendan Williams-Childs is the first recipient of the SOC Student Worker of the Year Award. Selected by a panel of SOC Senior Staff, this award was initiated and coordinated by the SOC Junior Staff Committee and honors the outstanding contributions and efforts of a dedicated and motivated SOC student worker.

A rising junior, Brendan has worked as a Student Staff Assistant in Mary Graydon Center 300, the Undergraduate Office of SOC, commonly referred to as "Room 300," since he was a first semester freshman.  
Currently majoring in Foreign Language & Communication Media with a minor in legal theory, Williams-Childs' dual role as an SOC student and staffer is a winning combination. He also serves as an SOC Ambassador, a select group of SOC undergraduates dedicated to mentoring and orienting prospective SOC students.
Room 300 is always bustling, and it's estimated that hundreds of individuals come through every semester. Sitting at the front desk, Williams-Childs is the first face many see when walking in the door. "It's a wonderful working environment, and it's been really great to connect to prospective students and faculty. The fact that I'm a student also gives real credibility and strength to my outreach as a staffer in the office," he says.
Brendan's supervisor, Senior Administrative Assistant in the Undergraduate Office, Ellen Mata, says, "I noticed he was an outstanding staffer from the first semester. He was very observant, and made a deep effort to learn about the faculty and school. I was impressed that he used the knowledge from his SOC classes to help illustrate informational points to our prospective students," she says.
Jill Heitzmann, Assistant Director of Undergraduate Recruitment and Retention agrees. "[F]rom the beginning, Brendan has been an asset to SOC, giving back in many ways. We were happy to hear he would join us [in Undergraduate Advising] in fall 2011, and he hit the ground running as soon as he came to campus."
Williams-Childs' dedication to SOC has been apparent to many at the school. In announcing the award, the adjudicating panel wrote that Brendan "'embodies the mission of AU and SOC in how he represents the institution/school.' His ambition to learn, strong work ethic, customer-focus and ability to assume responsibilities outside his 'normal' job,"was an asset. They also noted that, "Brendan's empathy and desire to help all people who come in the front door, take a tour, or call on the phone exemplified one of SOC's, and AU's, core beliefs. His leadership… has touched the lives of many people, current and prospective SOCers."
Brendan's passion about SOC and his studies is palpable. "I've really enjoyed all of the communication classes I've had so far, and next semester [fall 2013] I am really looking forward to taking Public Relations Writing with Professor [Corinne] Hoare and Communication Law with Professor [John] Watson."
An unexpected perk that comes with being a Room 300 staffer? "Ellen is fluent in Spanish, and my major involves learning the Spanish language, so sometimes she will speak in workplace Spanish… which is really helpful." 
Mata is thrilled that Williams-Childs will be back this fall working with the team in the SOC's undergraduate office. "I know when I come back to the office after stepping away that everything is in good order, "He really is like a second senior administrative assistant."