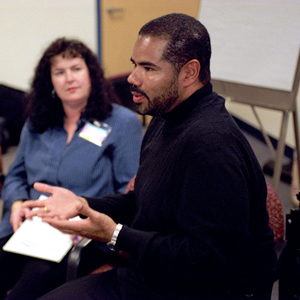 Lennox Joseph

Adjunct Professorial Lecturer Department of Public Administration and Policy
Degrees

PhD, Case Western Reserve University, Organizational Behavior
<br>BA, University of the West Indies, St. Augustine, Trinidad, W.I., Management and Social Psychology

Bio

A top-tier OD scholar-practitioner, Dr. Lennox Joseph is Advisor, Organizational Effectiveness/ Organizational Development at the World Bank, where he previously served as Senior Change Consultant. Dr. Joseph was President and CEO of the NTL Institute and earlier, the President and Senior Consultant of the Inguz Group of Ohio. Dr. Joseph holds a PhD in Organization Behavior from Case Western University and a BA in Management & Social Psychology from University of West Indies in Trinidad. An expert in OD and change, Dr. Joseph has specialized in strategy formulation, repositioning and implementation, organizational transformation, creation of internal learning systems, and in incorporating diversity values into strategic and operational plans. With over 24 years experience in the training, teaching and consulting fields, he has consulted to organizations worldwide (Africa, Korea, China, Singapore, Brazil, Trinidad, Malaysia, Indonesia, Thailand, and England). In 2001, he received the Herman Stein Award from Case Western for his contributions to International Social Change. Dr. Joseph teaches Diversity/Cultural Competence, and Consultation Skills.
Partnerships & Affiliations