Public Affairs, School of
4400 Massachusetts Avenue NW
Washington
,
DC
20016
United States
---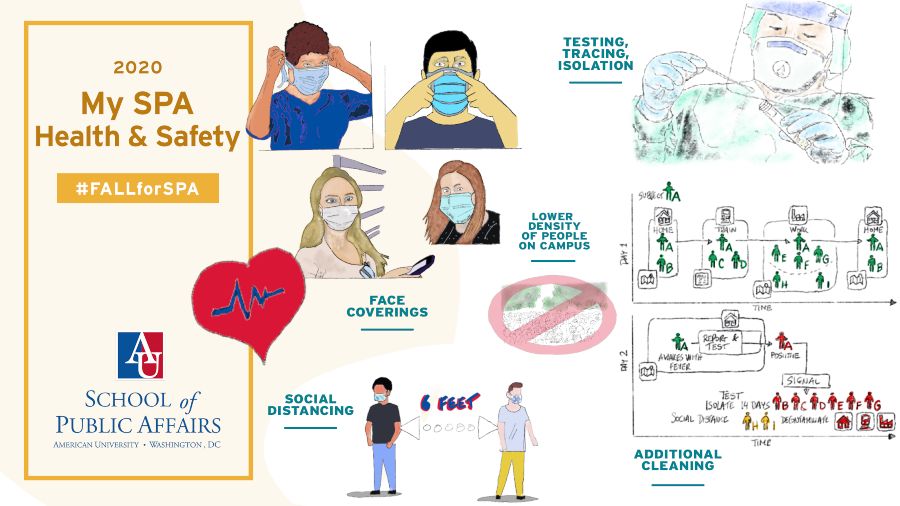 Health & Safety
Based on current and anticipated conditions related to COVID-19, and the need for a variety of safety protocols, we will be following and enforcing all social distancing guidelines in all areas of campus. This includes:
Masks worn at all times.
Social distancing (keeping at least six feet of distance between parties).
Self-monitoring for symptoms.
Testing and tracing protocols.
Increased airflow in our buildings.
Increased cleaning of buildings, including deep cleaning.
---
SPA Courses
SPA courses will be taught in one or a blend of the following:
Live Online/Synchronous class time: Courses will be designed with a significant portion dedicated to live online meetings with faculty and students. These sessions will be recorded when possible, for students unable to attend. Synchronous class time will occur during scheduled class time.
Asynchronous class time: Faculty will post individual- and group-activities that students will complete on their own schedule.
Some face-to-face meeting time: Several rooms in Kerwin Hall are allocated to SPA for the Fall semester, and faculty will use these rooms to offer face-to-face opportunities to their classes. The capacity of every room will be set according to social distancing guidelines.
How will students know what a Fall course will look like?
Based on faculty feedback, all Fall 2020 SPA courses received a "tag," to describe to the student what to expect in terms of interaction for that course. The tags explain which modalities (listed above) will be used for this course. Students can find specific information on their course here.
---
SPA Experience
While the Fall will bring challenges, it will also be an opportunity to explore new interests, learn new skills, enhance your classroom experience, and get to know D.C. – whether you are physically here or elsewhere. This includes:
Skills Training Offerings through the SPA Analytics and Management Institute (SAMI).
Alumni/Student Networking - Connect through small group virtual meetings.
Getting to Know D.C. Series - Get to know our city through the eyes of our students, staff, faculty, and alumni, by tuning in to a series of conversations and virtual visits.
Lecture Series - This series will allow students to receive course credit for attending lectures/panels, meeting in small groups to discuss, and completing a short assignment. We are currently planning tracks around the following topics:

Election 2020
COVID-19 and The Response
Race and Injustice in America
---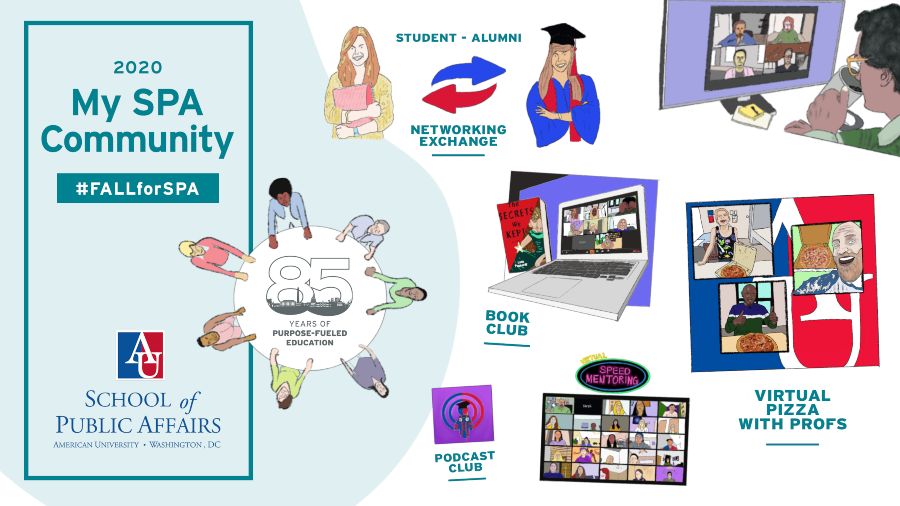 SPA Community
At any distance, our community will remain connected. Though we may be apart, our community activities, such as podcast club, book club, Alumni Speed Mentoring, Dean's Office Hours, the Project on Civil Discourse, and Pizza with Professors will continue. Stay connected to SPA through email and social media to sign up for a spot.
Have a more specific question about the Fall? The University's FAQs section is frequently updated with the most current information regarding the University's information and resources. If you don't see the answer to your question, suggest a question and the page may be updated with the appropriate information.