Faculty Awards, Achievements, & Publications
Emergency Presidential Power: From the Drafting of the Constitution to the War on Terror
Chris Edelson, Louis Fisher
While intended to provide the Commander in Chief a way to swiftly respond to security threats this book shows through historic records that U.S. presidents have tested, pushed, and increasingly overstepped the limits of their emergency powers, particularly in the post-9/11 era. (University of Wisconsin Press, 2013) More Info | About Chris Edelson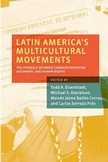 Latin America's Multicultural Movements: The Struggle Between Communitarianism, Autonomy, and Human Rights
Todd A. Eisenstadt, Michael S. Danielson, Moises Jaime Bailon Corres, and Carlos Sorroza Polo, eds.

Latin America's Multicultural Movements is a collection of empirically-based chapters that advance debates concerning multiculturalism and indigenous and minority group rights in Latin America by looking at the struggle between communitarianism, autonomy, and human rights. (Oxford University Press, 2013) More Info | About Todd Eisenstadt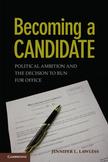 Becoming a Candidate: Political Ambition and the Decision to Run for Office
Jennifer Lawless
The books explores the factors that drive political ambition at the earliest stages. Using data from a comprehensive survey of thousands of eligible candidates, Lawless investigates what compels certain citizens to pursue elective positions and others to recoil at the notion. (Cambridge University Press, 2012)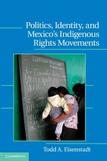 Politics, Identity, and Mexico's Indigenous Rights Movements
Todd A. Eisenstadt, ed.

The book further points to recent indigenous rights movements in neighboring Oaxaca, Mexico, as examples of bottom-up multicultural institutions that might be emulated in Mexico and elsewhere in Latin America. (Cambridge University Press, 2011) More Info | About Todd A. Eisenstadt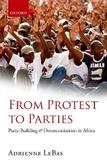 From Protest to Parties – Party-Building & Democratization in Africa
Adrienne LeBas, ed.

The book examines differences in opposition party strength in hybrid regimes in Africa.Moreover it provides a unique window into the politics of mobilization and protest in closed political regimes as well as shedding light on how the choices of political elites affect organizational development. (Oxford University Press, 2011)
More Info | About Adrienne LeBas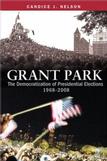 Grant Park: The Democratization of Presidential Elections, 1968-2008
Candice J. Nelson, ed.

While utilizing the metaphor of Chicago's famous Grant Park, the book examines the democratization of the presidential election process over four turbulent decades. (Brookings Institute, 2011) More Info | About Candice J. Nelson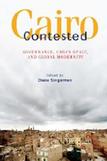 Cairo Contested: Governance, Urban Space, and Global Modernity
Diane Singerman, ed.
This cross-disciplinary volume explores how the convergence between neoliberalism, globalization, and electoral authoritarianism has further divided and polarized this mega-city. (AUC Press, 2010)
More info | About Diane Singerman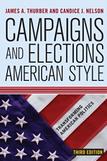 Campaigns and Elections American Style, 3rd edition.
James A. Thurber and Candice J. Nelson, eds.

With new and revised essays throughout, this book provides a real education in practical campaign politics. (Westview Press, 2009) More Info | About James A. Thurber | About Candice J. Nelson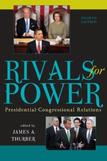 Rivals for Power: Presidential-Congressional Relations
James A. Thurber, ed.

Leading scholars and knowledgeable former public officials consider the historical, political, and constitutional foundations of conflict between the two branches. (Rowman & Littlefield, 2009) More Info | About James A. Thurber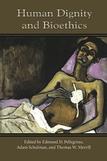 Human Dignity and Bioethics
Edmund D. Pellegrino, Adam Schulman, and Thomas W. Merrill, eds.

This collection of essays, commissioned by the President's Council on Bioethics, explores a fundamental concept crucial to today's discourse in law and ethics in general and in bioethics in particular. (University of Notre Dame Press, 2009) More Info | About Thomas W. Merrill
Recent Articles and Papers
"Calling Out the Troops: Interest Groups, Press Releases and Policy Promotion Through Speech." 2009. Politics and Policy 37 (3): 463-484. View Online
"Judging in a Vacuum Or, Once More, Without Feeling: How Justice Scalia's Jurisprudential Approach Repeats Errors Made in Plessy v. Ferguson." 2012. Akron Law Review 45 (4): 514-566.
"Agrarian Tenure Institution Conflict Frames, and Communitarian Identities: The Case of Indigenous Southern Mexico." 2009. Comparative Political Studies 42(1): 82-113. View Online
"Walking Together, but in Which Direction? Gender Discrimination and Multicultural Practices in Oaxaca, Mexico" (with Michael Danielson). 2009. Politics & Gender 5: 153-184.
"Sexism and Gender Bias in Election 2008: A More Complex Path for Women in Politics, Politics and Gender." 2009. Politics & Gender 5(1): 70-80.
"Making-Up Is Hard to Do: Obama's 'New Approach' to Cuba," NACLA Report on the Americas, July/August 2011: 38-44.
"Cranky Neighbors: One Hundred Fifty Years of U.S.-Cuban Relations," Latin America Research Review 45, no. 2 (2010):217-227.
"Engaging Cuba: A Roadmap." Winter 2008/09. World Policy Journal 25(4): 87–99. View Online
"La Habana-Washington: México, mediator oficioso" (With Peter Kornbluh). Proceso. January 11, 2009: 46-49.

"Between Optimism and Pessimism: Israeli Attitudes Toward Conflict Resolution in the Post-Oslo Era," Nationalism and Ethnic Politics 18:4 (Winter 2012): 476-504.
"Faith and Fear: Explaining Jewish and Unionist Attitudes Towards Compromise in Israel and Northern Ireland." Peace and Change 38:1 (Winter 2013-2014)
HONORS
Award: Carrie Chapman Catt Prize for Research on Women and Politics from the Carrie Chapman Catt Center for Women & Politics at Iowa State University.
Award: Crader Family Book Prize in American Values from Southeast Missouri State University, 2014, for Emergency Presidential Power: From the Drafting of the Constitution to the War on Terror

Award: Van Cott Award from the Political Institutions Section of the Latin American Studies Association (LASA), 2012, for Politics, Identity, and Mexico's Indigenous Rights Movements, named by a jury as best book on political institutions since the last LASA Congress in 2010. The book also won the William M. LeoGrande Award for best book on Latin American or Latino Studies published during 2011-2012 by a member of the American University community.

Grant from USAID, Higher Education and Development TIES Program for "Uniting Law and Society in Oaxaca, Mexico: A Research and Teaching Program."

Grant from Latin American Studies Association/Mellon Foundation, "From Parchment to Practice: Explaining When New Constitutions Fail to Improve Democracy."
The National Science Foundation granted $301,113 for Professor Lawless' project: "Uncovering the Origins of the Gender Gap in Political Ambition."
Award: LeBas' latest book, From Protest to Parties: Party-Building and Democratization in Africa, was awarded the 2011 Best Book Award from the African Politics Conference Group. Read more »
In 2012, Social Science Research Council named LeBas one of its New Voices, "exemplars of outstanding and original research."
Professor Shields was named the new Executive Director for the American Society for Public Administration in December 2013. Read more »
Address
"Latin America Policy in the Next Two Years: The Obama Administration and the Next Congress"
Dean William LeoGrande addressed the David Rockefeller Center for Latin American Studies, Harvard University, March 7, 2011.