On Campus
SPA's Key Executive Leadership Programs Partners with Executive Women in Government for Training and Development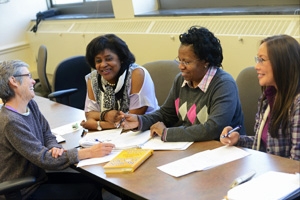 Executive Women in Government (EWG) and American University's Key Executive Leadership Programs have formed an exclusive higher education partnership. Key will assist EWG in developing leadership development training workshops taught by its faculty and will help plan programs and meetings for the group's members.
Recently as part of this collaboration, Key worked with EWG's board to develop the certificate program for the EWG Annual Summit, held earlier this month.
EWG focuses on preparing, promoting, supporting, and mentoring women for senior leadership positions in the federal government. Key's mission is to create a participative and rigorous learning environment where students choose to transform themselves from good managers to extraordinary leaders.
"Executive Women in Government is delighted to be working with Key to provide executive leadership training and related programming for our members," said EWG President Reta Jo Lewis.
"With women making up only a third of the Senior Executive Service, the time is appropriate to form an exclusive higher education partnership with EWG, a respected and relevant organization," stated Robert Tobias, director of Key. "EWG's advocacy of and commitment to women in leadership positions aligns closely with our commitment to leadership development. As a result, it is befitting that Key is partnering with EWG to achieve the common goal of preparing great leaders for public service. Women play an indispensable role in the public service workforce, and Key is eager to share our leadership resources and expertise to develop a new community of women executives serving as public sector leaders."
About EWG
Founded in 1974, Executive Women in Government (EWG) is an organization of women executives who serve in the legislative, executive, and judicial branches of the federal government. The mission of EWG is to prepare, promote, support, and mentor women for senior leadership positions in the federal government; build a powerful network to share experiences, enhance professional relationships, and increase understanding among women executives in the federal government; and to motivate women leaders in the federal government to contribute to effective succession planning by creating a mentoring culture within their sphere of influence. To further these goals, EWG holds meetings with opinion leaders in politics, public policy and the arts in order to educate, inspire and motivate women leaders. The organization also holds an annual conference featuring speakers and topics of benefit to senior-level professionals and uses a website to keep its members informed. In addition, it maintains affiliations with a number of other organizations with similar goals in order to better serve its members and advance common goals.
About Key
The Key Executive Leadership Programs has transformed good managers into extraordinary leaders for more than 35 years. Aligned with the U.S. Office of Personnel Management (OPM) Executive Core Qualifications (ECQs), the Key Executive Leadership MPA and Certificate prepare mid-career professionals at the level of GS-13 and above (or NGO equivalent) to become effective, top-quality team and executive leaders. Key programs are housed in American University's School of Public Affairs. Ranked among the top schools of its kind, the School of Public Affairs (SPA) offers education in the fields of political science, public administration, public policy, organization development, and justice.