Alumni
#SPA80for80: Gwen Sykes, SPA/MPA '01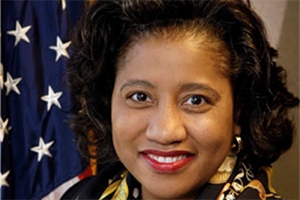 Gwendolyn Sykes brings to SPA students several years of experience managing financial operations for federal agencies.
Sykes currently serves as chief financial officer of the United States Secret Service, where she is responsible for the execution, development and stewardship of the Secret Service's resources. She currently manages a financial team that includes budget, financial management, relocation, and financial systems experts.
Sykes began working with the Secret Service in May 2012, bringing with her a wealth of financial management skills and talent for organizational transformation and enhancement.
Sykes is the first African-American female to serve as CFO at NASA, a $16-billion agency. At NASA, Sykes led more than 500 finance professionals, located across ten geographically dispersed locations throughout the United States, in the development and execution of financial policies, processes and procedures.
She has also served as Yale University's chief financial officer, the first in that university's 306-year history, and chief financial officer for Morehouse College.
Her government career began three decades ago with experience in the Department of Defense and the Congressional offices of Alaska Senator Ted Stevens.
She holds a BA in accounting from Catholic University and an MPA from American University. She has been recognized for her achievements by Black Enterprise, Newsweek, the Today Show, and the National Black Caucus of State Legislators.
#MySPAHistory
"The School of Public Affairs provides a fantastic opportunity to build your personal leadership tool kit in order to foster a more responsive and dynamic organizational culture that will thrive in these challenging times."