Alumni Success Story
Key Alum Selected as Chief of Police in Greenville, NC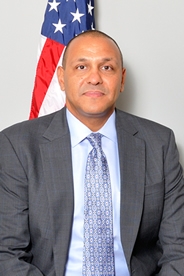 Greenville City Manager Barbara Lipscomb has named Key MPA alumnus Hassan M. Aden (SPA/MPA '09) as Greenville's next Chief of Police, effective November 26, 2012. He is currently serving as Deputy Chief of Police in Alexandria, VA.
"Deputy Chief Aden is a seasoned law enforcement professional who has experience handling all aspects of police operations," said Ms. Lipscomb. "The entire interview panel and I were highly impressed with him. He is experienced in community-oriented, evidence-based policing which resulted in a tremendous turnaround in crime in his community."
"I am honored to have been appointed to serve the City of Greenville as its new Police Chief," said Mr. Aden. "I am attracted to Greenville because of its innovative spirit and the priority it has placed on public safety and crime reduction."
Hassan earned his Key Executive Leadership Masters of Public Administration from American University in 2009, graduating with Key 36. He has also completed studies through the Police Executive Research Forum's Senior Management Institute for Police and the University of Richmond's Professional Executive Leadership School. He also has served as a Commission on Accreditation for Law Enforcement Agencies (CALEA) Team Leader in assisting public safety agencies in achieving national and international accreditation status.
He is a seasoned administrator with more than 25 years of experience with the Alexandria, VA Police Department, rising through the ranks to his current position of Deputy Chief of Police – Patrol Division. During his career he has also served as Police Captain over the largest police district in Alexandria, helping bring crime rates to a 43-year low, and Special Assistant to the Chief of Police, providing leadership on special police policy matters and strategic planning. He has extensive experience in internal investigations and police communications. In his current role over the Patrol Operation Bureau, he oversees more than 200 sworn and civilian employees for the city's 148,000 residents and manages a budget of $22 million.
Aden's appointment is the result of a nationwide recruitment process led by the International Association of Chiefs of Police (IACP). City Manager Barbara Lipscomb reviewed the IACP's top 16 candidates and selected six to interview. The interview process consisted of an assessment center of several components including an interview with a panel consisting of police recruitment experts from the IACP, an interview with a local panel of Joe Bartlett, who recently retired as Greenville's Interim Police Chief, ECU Police Chief Scott Shelton, District Attorney Clark Everett, and Ms. Leah Futrell, Interim Human Resources Director. The candidates also interviewed with City Manager Barbara Lipscomb. Mr. Aden was unanimously recommended by both panels and was Ms. Lipscomb's top choice.
Aden said, "This position comes with a tremendous responsibility to deliver meaningful and high-quality police services to our community. I look forward to leading a progressive and well-respected Greenville Police Department into its next chapter."