Alumni Success Story
Key MPA Alum Selected New Dean of the College of Veterinary Medicine at Ohio State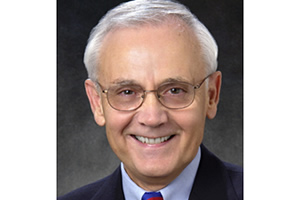 Dr. Lonnie King (Key/MPA '91) has been named dean of The Ohio State University College of Veterinary Medicine, effective September 1.
Dr. King had served as the Director of the Centers for Disease Control's (CDC) National Center for Zoonotic, Vector-Borne and Enteric Diseases. At CDC, he led activities for surveillance, diagnostics, disease investigations, epidemiology, research, public education, policy development and disease prevention and control programs. Before joining CDC, he served as Dean of the College of Veterinary Medicine at Michigan State University from 1996 to 2006. 
King also worked at the National Animal and Plant Health Inspection Service, part of the U.S. Department of Agriculture (USDA). There his assignments included directing the development of the agency's National Animal Health Monitoring System, serving as the country's chief veterinary officer, and director for national veterinary and animal health programs.
He served as president of the Association of American Veterinary Medical Colleges from 1999-2000 and was the vice-chair for the National Commission on Veterinary Economic Issues from 2000-2004. He also helped start the National Alliance for Food Safety, served on the Governor's Task Force on Chronic Wasting Disease for the State of Michigan and on four National Academy of Sciences Committees; most recently chairing the National Academies Committee on Assessing the Nation's Framework for Addressing Animal Diseases. In 2004 he was elected as a member of the Institute of Medicine of The National Academies.
Dr. King received his Masters in Public Administration from American University's School of Public Affairs Key Executive Leadership MPA Program in 1991 as a member of Key Cohort 15.
King received his Bachelor of Science and Doctor of Veterinary Medicine degrees from The Ohio State University in 1966 and 1970, respectively. He also earned his Masters Epidemiology from the University of Minnesota while on special assignment with the USDA in 1980. The author of more than 100 publications; King is a board-certified member of the American College of Veterinary Preventive Medicine, and has completed the Senior Executive Fellowship program at Harvard University.