Student Success Story
Key 38 Member Achieves SES Certification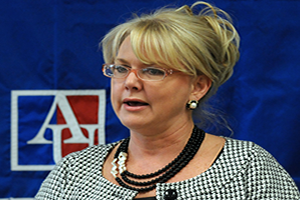 Allison Wiedeman (SPA/Key MPA '10), current student in Key MPA Cohort 38, received her SES certification from the Office of Personnel Management (OPM) in January of this year. Allison is also a graduate of the United States Department of Agriculture Senior Executive Service Candidate Development Program (USDA SES CDP) Key Executive Leadership Certificate Program Cohort VII.
She is currently with the Environmental Protection Agency's (EPA) Office of Water in Washington, DC.  There she is a Branch Chief for the Water Permits Division's Rural Branch where she is in charge of developing nationally applicable water pollution control regulations and permits for the animal livestock industry, pesticide applications to waters, and water quality trading.  Allison began her career with EPA after receiving her environmental engineering degree from Vanderbilt University in 1980.
She is currently seeking employment with the SES Corp at either the EPA or USDA.  She has been married for 27 years and has three children.  Now that her children are grown, Allison spends her time outside of work by horseback riding in the winter, sailing in the summer, and traveling.