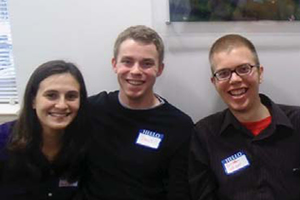 Alumni and Family Reception, 2009
Leadership Program graduates are leaders across sectors and around the world. This powerful alumni group—500 plus strong— offers an enriching lifetime network of friends and colleagues.

Current students may engage with graduates when alumni serve as mentors to our sophomores, provide information about internship and career opportunities, offer support on social action projects, return as guest speakers and role models, and generally contribute to the growing community of Leadership students and graduates.

Alumni enjoy all the benefits of being an AU alum, as well as the special bond with others who have experienced the same program.  

The SPA Office of Development is constantly updating and expanding our alumni information to better serve our alumni. One of the ways you can help is to register for the AU On-Line Community – an AU resource that lets alumni reconnect with old friends as well as establishing a permanent free e-mail address, network, and even design your own web site.

Leadership alumni invite other graduates to join their active online community on the Facebook group, SPA Leadership Program ALUMNI.
Stay Connected
Alumni: Update your contact info and learn about events and volunteer opportunities.