Achievements
Naomi Baron Wins Betty T. Bennett Award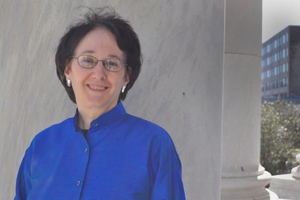 Naomi Baron spent the past year exactly the way you would expect the winner of the Betty T. Bennett award to do.
The Betty T. Bennett award was established by the family of former College dean Betty Bennett in memory of her service to the university from 1985 to 1997 and in particular to recognize a member of the College's faculty who is both a superior scholar and an exemplary leader in an administrative role.
Baron has split her time this year between Washington and California. She spent a month in the fall at Stanford, where she is a visiting scholar at the Center for Advanced Study in the Behavioral Sciences, and two months there this spring, all the while continuing her "day job" as executive director of AU's Center for Teaching, Research, and Learning.
Baron is at Stanford as part of a group of five scholars working on new media language, put together by Georgetown professor Deborah Tannen. Each member of the group is pursuing his or her own research agenda, but they "talk a lot," according to Baron. They test their theories and bounce ideas off one another and other colleagues at the Center.
Baron is working on a book that already has a title, Words Onscreen: The Fate of Reading in a Digital World, a publisher, Oxford University Press, and a publication date, 2014.
Baron's central research question is whether reading on digital screens—computers, tablets, e-readers, mobile phones—is changing our notion of what it means to read. Since the invention of writing, the medium on which we record written words has affected how we read. Books are easier to read than scrolls; printing introduced active use of page numbers; and so on. Digital technologies are also affecting how we read, but in new ways. Probably the most important is that reading on screens urges us to keep seeking new bits of information but discourages more serious, contemplative, deep reading. Baron is concerned about the consequences of this shift.
Baron joined the College of Arts and Sciences in 1987 as associate dean for undergraduate affairs and thus began her relationship with Betty T. Bennett. Baron then became associate dean for curriculum and faculty development, spending a total of seven years in the Dean's office.
Baron says she was fortunate to be able to work so closely with Dean Bennett. "During that time I learned an enormous amount about how to juggle full-time administrative responsibilities with a continuing research agenda." While she was associate dean, Baron wrote two books and "a slew of articles and book chapters."
After she left the Dean's office, Baron's administrative posts have included four years as chair of the Department of Language and Foreign Studies (now the Department of World Languages and Cultures) and 15 years directing the TESOL program. In July 2011, she assumed the leadership of the Center for Teaching, Research, and Learning. Throughout that time she has been a prolific scholar, having now published seven books, along with scores of articles and book chapters. She is a popular media figure, sought out by major news outlets to discuss new media and her research.
Baron's interest in how we read—and how new media are affecting the reading process—reflects her longstanding commitment to figuring out how to best structure higher education. A personal goal throughout her professional career has been to inform her thinking about education by research—both the work of other scholars and her own.
Writing is another of Baron's passions—as it was Betty Bennett's. Crafting language well is a vital aspect of professional scholarship but it is also the backbone of a liberal arts education. Describing Bennett's love of language, Baron says, "She took very seriously her word choice in everything she produced, every speech she gave, every report she wrote. It was, I think, part of her own way of demonstrating the integration of scholarship and administration. And of course, teaching was also a vital part of the mix."
Bennett modeled the integration of scholarship, administration, and teaching. The same can be said of Naomi Baron, this year's winner of the Betty T. Bennett award.