In the Community
Leadership Program Projects Address Social Issues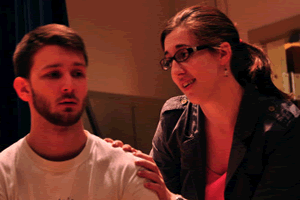 With the end of the year comes the conclusion of the sophomore class' social action projects, many of which saw great success. These projects all address a social issue that the individual students identified as a problem in society.
Sophomores began the process immediately after returning from their retreat in September, working on a policy memo, project proposal, and grant application during the first half of the year. The students then implemented their proposed projects over the course of the past semester.
José Morales directed a play about adolescents living in a post-9/11 world dealing with Islamophobia, an issue important to Morales. He discovered "Hearts and Minds" by Luqman Ali and received the author's permission to premier the show in the United States. Morales teamed up with the on-campus theatre group AU Players, and the cast put on three performances, all of which were extremely wellreceived. When asked what he learned from this experience, Morales answered, "Don't doubt the power of your idea, because it can turn into something huge."
Sarah Robinson wanted to address the issue of reproductive rights in third world countries, specifically Guatemala. In order to effectively disseminate information and supplies to women in this area of the world, Robinson designed an Alternative Break trip that she hopes will be accepted for the summer of 2012. This entailed planning several pre-departure lessons on the educational aspects of the trip, researching the specific location, and once approved, Robinson herself will be in charge of leading the trip.
A challenge that she faced was finding a partner who was fluent in Spanish and was willing to sponsor the trip with her, but she has recently succeeded in finding such a person. "This project was challenging, but I learned a lot," Robinson says.
Katie Hanson values educating people on food insecurity and how to eat locally and sustainably. To do this, she partnered with Bon Appétit, the food service company on campus, to put on several events to educate students. Chef Mary Soto put on multiple cooking demonstrations, showing students how they can cook healthy, sustainable dishes and providing them with recipes. For the most recent event, Soto only used foods she found at the on-campus farmer's market and put on the demonstration right next to the farmers' tents.
Hanson also worked with Bon Appétit on their Low Carbon Day event, showing students how they can still eat good food and reduce their environmental impacts. Hanson now prides herself on being something of a "Bon Appétit ambassador."
In a similar vein, Hannah Murphy wanted to address an issue that was near and dear to her because she grew up near the heart of it – farm workers rights in Amocoli, Florida. Murphy saw the conditions that these migrant harvesters were subjected to – poorly-made, temporary housing, incredibly low wages, and no stable home, as they had to travel from southern Florida up the east coast with the harvest seasons.
Murphy researched the issue while she was home over winter break and put together a presentation that she is using to spread the news of the farm workers' situation. She has presented it to oncampus groups such as Ecosense and hopes to bring it to a greater audience.
It is particularly clear from Robert Helbig's project that students' backgrounds really shaped the types of projects they were interested in. Helbig, who hails from Erfurt, Germany, spent his year forming the Young Transatlantic Conservative Alliance, a nonprofit organization dedicated to engaging American and European conservative youth in a dialogue about their common beliefs. In addition to formally founding a non-profit and launching a website, Helbig succeeded in acquiring a board of advisors that includes David A. Keene, chairman of the American Conservative Union and president of the National Rifle association, and former Congressman Jim Kolbe. According to YTCA's launch press release, the organization seeks to "advance the transatlantic relationship" through a "public diplomacy effort."
The entire sophomore class put many hours of hard work into their projects, and now they are able to look back on the impact that they had and reap the rewards of all of their efforts.