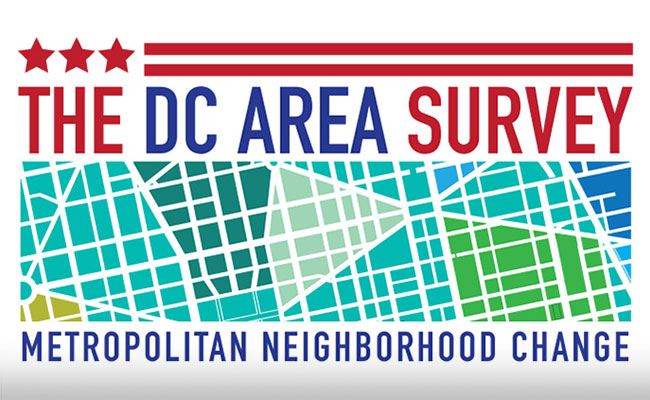 Introduction
Change occurs constantly in metropolitan areas. Yet there is surprisingly little research infrastructure to measure how people make sense of and react to those changes. This gap in scholarship deprives policymakers and communities of knowledge that could inform development strategies and civic initiatives designed to make metropolitan areas more dynamic and inclusive. Under the auspices of the Metropolitan Policy Center in its School of Public Affairs, American University is launching the annual DC Area Survey (DCAS) to study neighborhood and resident well-being in the Washington, DC (DC) metropolitan area.
The DCAS will focus each year on priority themes in strategically selected types of neighborhoods. The 2016 pilot survey concentrates on attachment to place, health, safety, trust in local organizations, and governance, and will focus on the experiences of DC area residents in two relatively new types of neighborhoods: Latino neighborhoods and "global neighborhoods."
Latino neighborhoods exist all over the DC metropolitan area. Many are in DC but many more are in the Maryland and Northern Virginia suburbs. Immigration from Central America and the increasing cost of housing in gentrifying DC neighborhoods are reshaping where Latinos reside and how they experience life in the DC area.
"Global neighborhoods" appeared in the past 20 years. These racially integrated neighborhoods reflect the growing diversity of the DC metropolitan area. This pilot study will be the first of its kind nationally to survey residents of these global neighborhoods.
Results from this pilot will inform numerous research initiatives led by American University faculty and provide insights that will be shared with stakeholders throughout the metropolitan area. The inaugural DCAS will also serve as a baseline to explore more and different types of neighborhoods in the DC area in the coming years.
Background & Significance
One feature of social change in post-Civil Rights American society is the rise of new and more complicated forms of racial integration. Research is needed to better understand the implications of this neighborhood compositional change on individual and social well-being. Latinos have become the largest minority group in the United States and Latino neighborhoods have dispersed throughout metropolitan areas. Most are now in the suburbs, a result, in part, of rising housing costs in the central city. Most research on immigrant incorporation and assimilation is based on urban ethnic enclaves, but the dispersion of Latino neighborhoods leads to questions about the applicability of that research in suburban settings. While we would expect some experiences to be similar, the spatial and organizational context of suburbs might lead neighborhood social process to evolve in unique ways.
Truly integrated "global neighborhoods" have never before existed in American history. These are neighborhoods that have a substantial proportion of Whites, Blacks, Latinos, and Asians. They are the fastest-growing type of neighborhood in American metropolitan areas and, by one measure [ http://www.s4.brown.edu/us2010/Data/Report/globalfinal2.pdf], the most common type of neighborhood racial composition. As these neighborhoods have emerged, however, we know very little about how their residents perceive the processes of change occurring in their neighborhoods. The novelty of these neighborhoods could reflect a potential future of sustained integration or, more pessimistically, give rise to racial tensions that could emerge in the 21st century. In light of these changes to the DC metropolitan landscape, we will investigate the following four research questions in this pilot study. Each will contribute to innovative academic research as well as provide useful data to residents, local governments, businesses, and non-profits in the Washington, DC area.
How attached are residents to their neighborhoods?
How is health related to neighborhood environments in Latino and global communities?
How are neighborhoods associated with crime and victimization?
To what extent do residents trust local organizations and local government?
Approach & Methodology
This DC Area Pilot Survey will sample from Washington, DC and the surrounding counties of Montgomery and Prince George's in Maryland and Arlington in Virginia.
We define Latino neighborhoods as areas that were not already defined as global neighborhoods where at least one quarter of residents are Latino.
For the purposes of this study, we define global neighborhoods as those in which Whites, Blacks, Latinos, and Asians all represent at least 10 percent of neighborhood residents and no group is a majority.
The sample will be drawn using address-based sampling and administered through the mail to approximately 9,600 addresses. It will ask questions across five domains: neighborhood perceptions, health, safety, institutional trust, and governance. These domains are central to understanding the influence of neighborhoods on the lives of residents.
The Project Team
This cross-disciplinary research effort involves participants from four Schools and Colleges at American University. The list below includes the American University faculty involved in this investigation.
Michael Bader (Principal Investigator) is a sociologist who studies how neighborhoods have changed since Civil Rights Legislation passed in the 1960s.
School of Public Affairs
College of Arts & Sciences
School of International Service
Kogod School of Business
Publication & Dissemination
Academic Publications. The data from this survey will provide the first ever representative estimates of neighborhood perceptions, health, safety, and trust in global neighborhoods across a major metropolitan area. It will also be among the few to have done so in Latino neighborhoods in both suburban and urban environments. Given the cross-disciplinary backgrounds of the investigators, we anticipate that academic papers will be written for academic journals in sociology, criminology, psychology, public health, demography, economics, and marketing.
Public Dissemination. In addition to scholarly publications, the investigators are committed to disseminating the results to community groups and policy makers throughout the D.C. area. The research will be generalizable to residents living in global neighborhoods and Latino enclaves, so dissemination efforts will target stakeholders in those neighborhoods. These include non- governmental organizations, county and city councils, and community groups.
Next Steps
The results of the survey will inform numerous ongoing research initiatives, including:
" Neighborhood Processes in an Era of Immigration and Integration." AU faculty will conduct an in-depth analysis of the influence of neighborhood conditions on resident health and well-being in the DC area. To our knowledge, no statistically generalizable studies have focused specifically on the influence of neighborhoods in newly integrated "global neighborhoods" and very few have studied the processes of integration and assimilation in American suburbs. This line of work will establish a precedent for analogous research elsewhere while supplying much needed information about the DC area.
Annual DC Area Survey. AU's Metropolitan Policy Center will raise resources to conduct a more comprehensive DC Area Survey annually. Future iterations of the DCAS will endeavor to sample additional neighborhood types throughout the Washington, D.C. area to better understand how distinct neighborhood compositions relate to resident perceptions of health and well-being. The DCAS will become a signature metropolitan wide survey that provides novel information on the changing patterns of urban and suburban neighborhood contexts and their influence on people's lives.
DC Area Neighborhood Map