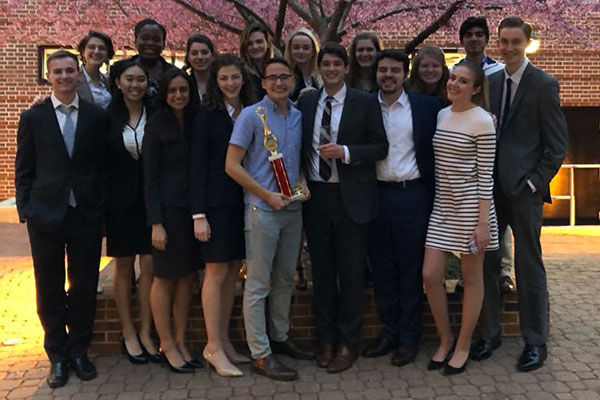 Letter from the Mock Trial President
Hi there!
My name is Albert Fujii and I am the current President of American University's Mock Trial team. I joined AUMT three years ago, expecting to join a team. But what I did not expect was that joining AUMT got me something else: a family. I know, I know, it sounds cliche. But the truth is that at every step of your journey, you will meet other students who are just as dedicated, and sometimes just as crazy, as you! These people will not only give you a meaningful place at American University, they will give you a sense of belonging in something larger than yourself because, at the end of the day, this team is strong because we work together through the wins and the losses, the smiles and the tears.
Okay, so let's get down to business. What is Mock Trial? Mock Trial is a mix of law, theatre, and public speaking. Think CSI or Suits, but this time you get to be the crying witness, the strong defense attorney, or the aggressive prosecutor. At the start of each year, we are given a case problem for either a civil or criminal case. This case problem includes unique witness statements, expert testimony, inflammatory evidence, police reports, and case law. Then it's up to us to put together coherent case theories and head off to competitions! Speaking of competitions, AUMT travels all around the country, from L.A. to Chapel Hill. At each competition, we get to compete with other schools, enjoy the cities we travel to, and bond over road trip Spotify playlists!
Along the way, AUMT has acquired a winning reputation. We are currently a top-tier mock trial program. In 2016, we placed third at the national competition, beating out over 600 other teams. And now, we're ready to surpass this record and make even bigger history!
That's why we need you.
If you are passionate about the law, love to compete, or just want to challenge yourself as a teammate and critical thinker, come to one of our info sessions in the fall! Absolutely no prior mock trial, legal, or theatrical background is necessary. For crying out loud, I study international relations and archaeology!
American University Mock Trial is an irreplaceable part of my college experience, and I hope you'll join us for that experience too. I look forward to meeting you in the fall.
If you have any questions, please email us at mocktrial@american.edu.
Mock on,
Albert Fujii