Public Affairs, School of
4400 Massachusetts Avenue NW
Washington
,
DC
20016
United States
College Mock Trial: Here's How It Works…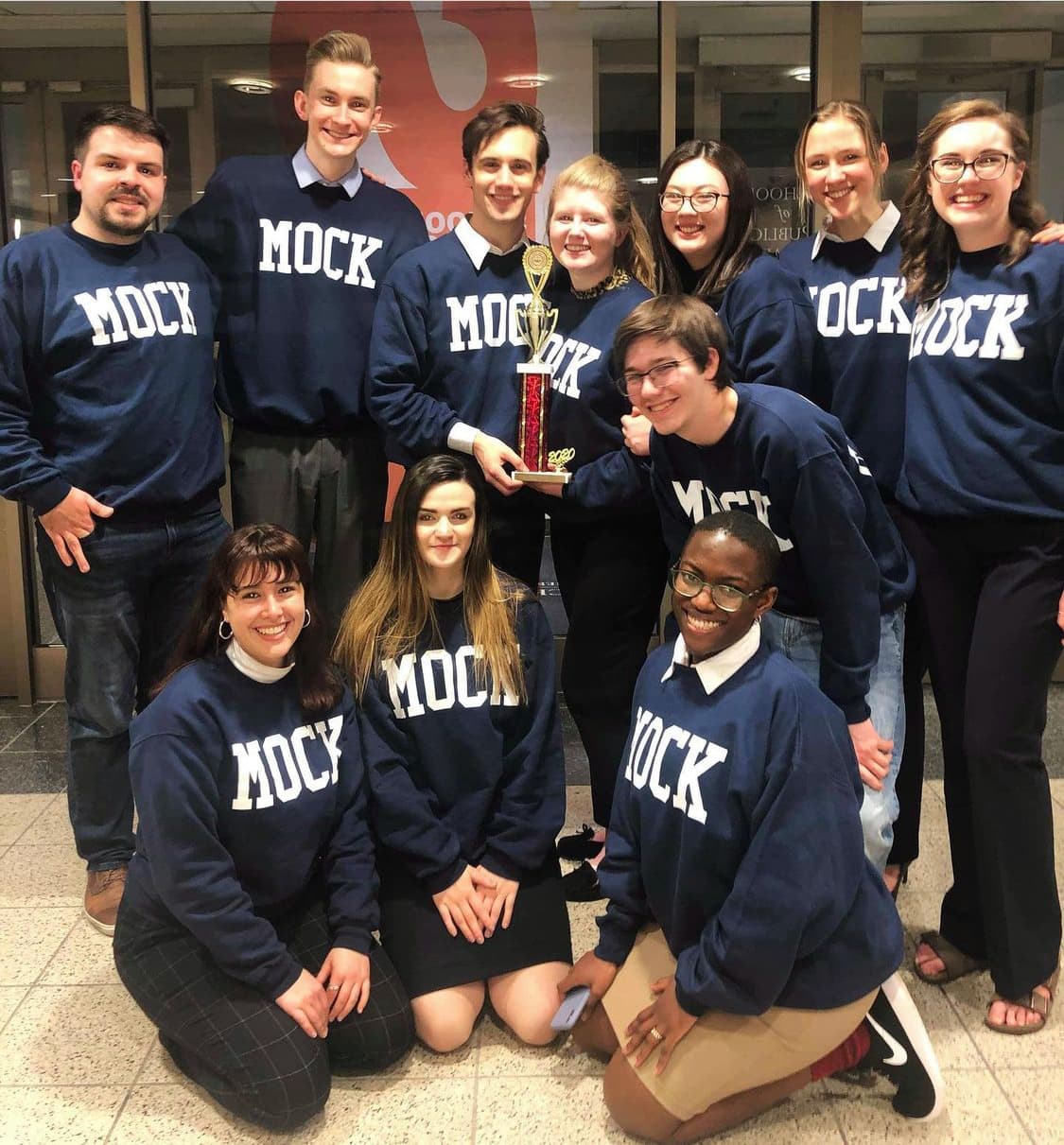 American University Mock Trial competes against other college teams within the American Mock Trial Association (AMTA). Each academic year, AMTA releases one criminal or civil case packet to every college team in the country. The case packet includes all the necessary materials to try the case in a simulated legal trial.
Teams study the legal documents, the exhibits, and the witness affidavits in the case packet as they prepare to try the case for both the plaintiff/prosecution and defense. AMTA tries to make their cases as balanced as possible, giving plenty of evidence for both the plaintiff/prosecution and the defense to use. The art of mock trial is presenting the evidence in the most persuasive and realistic way possible in order to win points from the judges.
Trials
Mock trial competitors (otherwise known as mockers) are assigned different roles to present their case. In any given trial, three mockers act as attorneys and three act as witnesses. The attorneys are responsible for conducting opening and closing statements, questioning witnesses on direct and cross examinations, and handling objection battles with the other team's attorneys.
Meanwhile, the witnesses are responsible for portraying their characters convincingly and presenting evidence for their team's side while they are being questioned on the witness stand. Witnesses in past mock trial cases have ranged from a breathalyzer expert to a car salesman to a corporate CEO.
In most trials, there will be two judges who evaluate mockers' performances on a scale of 1-10. You don't earn 10's for winning your case, necessarily, but rather by presenting your evidence confidently, persuasively, and in accordance with the rules of evidence.
Tournaments
Throughout the academic year, AUMT competes with other teams at mock trial tournaments. Typically a tournament brings in around twenty different teams who compete in four sets of trials over the course of a weekend. For each trial, our team is paired with another team from another school and we are assigned to try the case for either the plaintiff/prosecution or the defense. The more points our team earns, the more ballots we win, and the better we place in tournaments.
In the fall, we compete at invitational tournaments that are hosted by individual schools. In the spring, we compete in the nationally competitive, AMTA-sponsored tournaments, which ultimately result in the crowning of one mock trial team as the national champion.