Security, Strategy, and Analysis
The Master of Science in Terrorism & Homeland Security Policy at AU's School of Public Affairs will train you to tackle the problems of terrorism and other threats that endanger the security of the United States. You'll approach security issues informed by social science, with attention to the perspectives of criminology and criminal justice. Our program emphasizes development of strategic, policy-based security solutions at federal, state, and local levels of government.
Develop Crucial Skills in Homeland Security
This homeland security master's degree will help you develop crucial skills in qualitative and quantitative research methods and will provide a foundation in criminology, law, and public policy. You will be able to build on this knowledge through a variety of security and policy elective courses across the university. Our students are exposed to rigorous intellectual challenges. You'll gain the knowledge and competency needed to address current issues facing U.S. law enforcement, intelligence, and homeland security agencies. In addition, you will have the opportunity to join graduate students from across SPA in gaining vital soft skills through our Professional Development Series. These workshops prepare students to confidently enter the workforce, with seminars on networking, resume writing, interviewing, and presenting.
Learn from Expert Faculty
You'll learn from faculty members who are international experts on terrorism and other threats to homeland security. They conduct international research and work with policymakers and practitioners to craft solutions to homeland security problems. And they value mentorship outside the classroom just as much as the teaching within it.
Homeland Security Careers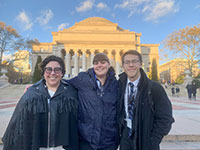 If you are seeking a program that will provide you with the skills to join the next generation of experts in national security and terrorism research and analysis, you'll find what you're looking for in the MS in Terrorism & Homeland Security Policy at the School of Public Affairs. Our graduates prepare for jobs in emergency management, federal law enforcement, homeland security policy, immigrant and travel security, cyber security, intelligence analysis, and general mission support. 
Dozens of federal agencies employ graduates with a master's degree in homeland security including U.S. Customs and Border Protection, the Secret Service, and the Coast Guard. See the FAQ below for a more comprehensive list of these agencies as well as specific job titles.
Selected
Degree Requirements
Admissions
Financial Info
The MS in Terrorism & Homeland Security Policy requires 33 credit hours of approved graduate work for students entering the program with a bachelor's degree. At least 18 of these credit hours must be in 600-level courses. A minimum grade point average of 3.0 in all coursework is required to remain in good standing and to earn the degree. Full-time status is considered to be nine credit hours per semester. Students are expected to complete the degree within two years.
Highlights of the MS-THSP degree requirements include:
Foundational courses such as Terrorism, Crime, and Public Policy and Seminar on National Security Policy, among a number of other options
Research methods sequence that provides a robust background and training in social science research concepts and methods
A selection of courses from across disciplines, from the School of International Service (SIS), the Department of Public Administration and Policy (DPAP), or other departments at American University
A vast array of elective course options in the Department of Justice, Law, and Criminology and other departments. Credit for internships that help to develop practical, job-based skills and for independent study projects with experienced professors who are experts in their fields
Practicum course in homeland security, cyber security, policing, or courts/corrections that serves as a capstone to the degree and connects students with a number of different clients in both the public and private sectors
The School of Public Affairs operates on a rolling admissions basis for our graduate programs. Applications are reviewed on an ongoing basis until programs reach capacity.
While previous academic or professional work in intelligence or security is not required, you'll need to demonstrate a serious commitment to a career in this field. Your personal statement on your reasons for pursuing graduate study in the program will be essential, along with the other required application materials.
For more information, please contact the SPA Graduate Admissions Office at 202-885-6230 or spainfo@american.edu.
The MS in Terrorism & Homeland Security Policy is a 33-credit-hour program. To estimate the cost of tuition, please see the current cost per credit hour for graduate students.
The School of Public Affairs offers graduate students both merit-based and need-based financial aid. Merit awards and named scholarships are administered by the SPA Graduate Admissions Office, while need-based awards are administered by the American University Office of Financial Aid. Additional financial support is available for veterans.
All merit awards are based on your academic merit and professional experience, specifically your undergraduate grades and leadership activities as well as career-related accomplishments. Merit awards are valid for one year-they vary in amount, are typically divided evenly between the fall and spring semesters, and are not typically renewable.
Frequently Asked Questions
AU School of Public Affairs Assistant Professor David Malet recently co-authored a paper examining how long it typically takes a returned foreign fighter to launch a domestic attack, and he found there is not a long-term risk as feared. Understanding what happens with returnees is important to know because it can affect policies on everything from countries admitting refugees to whether to permit ISIS fighters to leave the theater of conflict alive.
Six months after graduation,
90 percent
of SPA graduates are employed or in graduate school, or both within six months of graduation
Please send me information
Our enrollment system is not available at the moment, please try again.