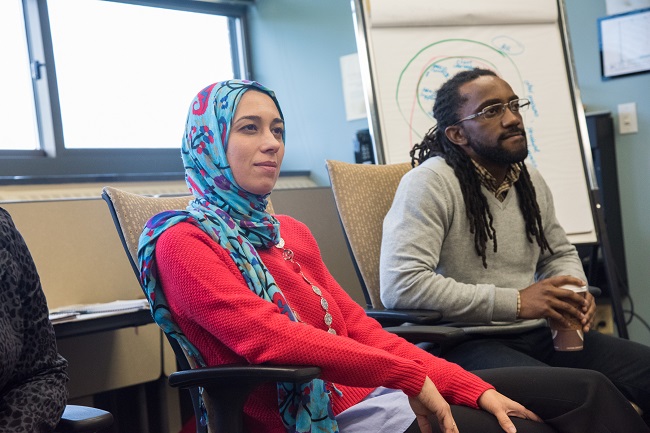 A number of AU MSOD students receive sponsorship from their employers for expenses associated with the MSOD degree. Employer sponsorship, either in whole or in part, benefits both the student and sponsoring organization. The student will receive the foundations needed to further their OD career. The organization will gain from employees who enhances internal organizational capabilities.

Here are some points to consider when approaching an employer for sponsorship.The AU MSOD program benefits employers by providing employees with:
Practical education and training, which can be applied directly to the needs of the sponsoring organization.
Hands-on experience in organizational change and development under the supervision of experienced professionals.
Direct contact with individuals in similar positions at other organizations.
The opportunity to build on skills gained from the employing organization.
Enhanced knowledge of relevant theory, strategy, and tools, and heightened personal awareness.
The tools to be a catalyst for positive change within the organization.
Organizational support for career and educational objectives.
Requesting Financial Support
If your organization routinely funds education reimbursement, use whatever means are in place. If, however, your organization does not have a formal system in place, the following tips may be useful in approaching your employer.
Be strategic about asking. If you do not ask, they cannot say "yes." On the other hand, consider the likely outcome of your request. Find out about your organization's recent history of providing such support. Research your organization's policies and procedures to determine how the organization handles requests for tuition payment or reimbursement, tuition remission, or payment for training.
Clearly articulate the organization's return on investment. What will they get out of this expenditure? Provide examples, e.g., you may say, "In the past week alone, we have participated in two meetings where senior staff members identified the need for a greater facilitation skills and better understanding of organizational and group dynamics. As a matter of course, our company contracts with numerous consultants at the cost of thousands of dollars to perform these tasks. No internal capacity has been developed. We are dependent upon expensive external expertise. It would be fiscally prudent to build our internal capacity."
Make your request look as professional as possible. People want to help winners. Be professional and respectful. Whenever possible, use your organization's language and style for communicating, so as to increase the likelihood of being funded, e.g., formal or informal language, letter or memo, written or verbal.
Get the decision-maker's commitment in writing. Having your education support arrangement in writing will help protect you should your organization have a change in leadership or priorities.
Make sure you know the financial consequences of leaving your organization before you complete the AU MSOD program. If your organization has paid for any of the courses, will they demand repayment? What will happen to your tuition reimbursement request if you leave the organization in the middle of the course?
Apply to the MSOD Program
You may submit your application electronically through our online system.
Please send me information