Segal-Seashore Fellowship Fund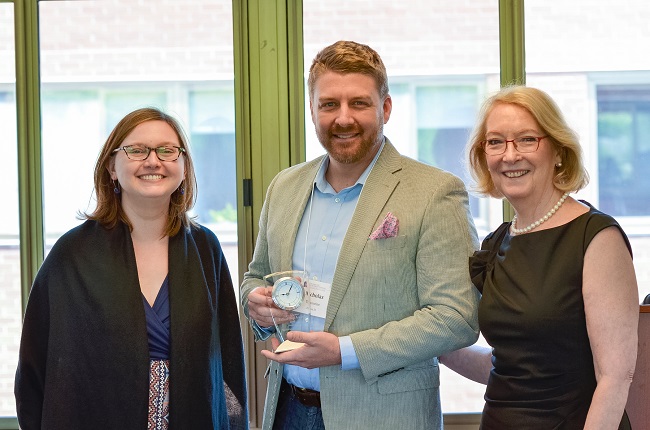 The Morley Segal and Edith Whitfield Seashore Fellowship Fund was created in recognition and appreciation of AU'S MSOD program founders Morley Segal and Edith Whitfield Seashore. The Segal-Seashore Fellowship Fund provides scholarship support and assists with costs related to educational expenses in the MSOD program.
The History
AU's MSOD Program began in 1978 on a dark and snowy night in Nebraska. Edie Seashore, then President of the NTL Institute for Applied Behavioral Sciences, and Morley Segal, Professor of Public Administration at AU's School of Public Affairs, had just finished co-facilitating a training program at Northwestern Bell. Their homeward flight from Omaha was repeatedly delayed due to blizzard conditions. Seashore and Segal used the time to brainstorm a model program to educate organization development practitioners.
Shortly after their plane landed in Washington, Morley and Edie got to work within their two systems. Their collaboration and doggedness paid off: within two years Class 1 of the AU'S MSOD Program was launched. The early curriculum was composed of 6 NTL labs plus 6 AU courses from Public Administration. Faculty consisted of NTL trainers and AU professors (including the former President of AU, Dr. Neil Kerwin). Very quickly, the program grew in size and reputation. Leaders in the field of OD were drawn to AU to teach in this innovative program. The curriculum evolved and changed. Since those founding classes, MSOD graduates have gone on to become agents of change, executives, academics, and leaders in OD, organizations worldwide, social justice and other areas.
The Present
Thirty nine years and more than 1,700 graduates later, AU's MSOD students travel from all over the United States and abroad to participate in what is, for many, a life-changing experience. AU's MSOD program enables them to master the concepts and skills essential to OD and equips them to help organizations accomplish sustainable, transformational change. The Segal-Seashore awards provide financial relief to several students each year, in an effort to make the education more affordable.
Average number of available awards annually: 4
Amount previously awarded: $3,000-$4,000
Learn from internationally recognized Organization Development scholar-practitioners and leaders
Please send me information