Achievements
Announcing the 2015 AU Summer Scholars & Artist Fellowship Award Recipients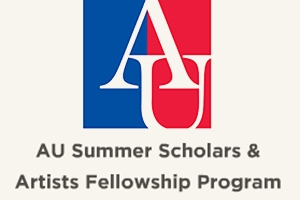 We are pleased to announce the recipients of the 2015 AU Summer Scholars & Artist Fellowship Awards: Alya Shaiful Bahari, Miles Brickley, Fabienne Demmerle, Nick Depuy, Emily Ferraro, John Oldham, Mike Romadka, and Aria Wiseblatt. Each was selected for submitting an exemplary and unique research proposal.
The eight winners will be awarded $4,000, funded by the Office for Undergraduate Studies, to conduct full-time research with a faculty mentor over the summer that leads to significant scholarly or creative work. Recipients also have the opportunity to take summer courses that aid in their research.
Faculty mentors assist students in identifying the knowledge and skills required to complete their selected project and in defining research phases and deadlines. During the summer, they will collaborate with the students, provide feedback, and help them find appropriate venues for sharing the results of their research.
In the past, projects have covered a broad range of issues, from Go-Go and gentrification in D.C., and the political discourse in Salsa music, to addressing international central bank transparency and researching medication for the epidemic of antibiotic resistance.