Achievements
American University's School of Public Affairs Places High in National Rankings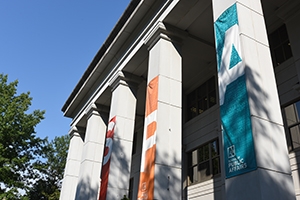 American University's School of Public Affairs landed in the top 20 of more than 270 schools of its kind, according to the U.S. News and World Report's latest Public Affairs Graduate Schools Rankings, which were released on March 16. SPA is ranked 19th overall, and ascended in rankings for all specialty areas. The school now ranks 5th for the public management and administration (up from 8th), 12th in nonprofit management (previously unranked), 23rd in public finance and budgeting (up from 24), and 26th in public policy analysis (up from 28).
"It was a dynamic year for the rankings," said Barbara Romzek, Dean of American University's School of Public Affairs. "I'm proud that we continue to be among the very best schools in the country for public affairs."
U.S. News and World Report rankings of public affairs programs are based solely on the results of a peer assessment survey. Deans, directors, and department chairs representing 272 master's programs in public affairs and administration were surveyed in fall. Respondents were asked to rate the academic quality of master's programs on a scale of 1 to 5. Scores for each school were totaled and divided by the number of respondents who rated that school. The response rate was 43 percent.
In addition, SPA is ranked for its research impact in public administration: 1st in DC, 3rd nationwide, and 5th in the world. Our public administration program is ranked 3rd and public policy program is ranked 13th by graduateprograms.com, based on ratings and reviews contributed by current and recent graduate students. AU is 1st in the nation for Presidential Management Fellows, and SPA is the only school with 3 John Gaus Award winners for a lifetime achievement in political science and public administration.
Visit us online for more information about the School of Public Affairs.