Research
SPA Sponsors Six Undergraduate Students to Present Research at National Conference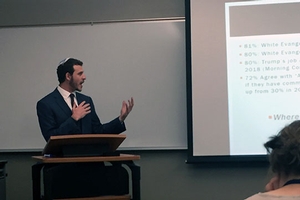 For the third year in a row, the AU School of Public Affairs (SPA) sponsored six students to attend the National Conference on Undergraduate Research (NCUR) to present their research. The conference, which was hosted by the University of Central Oklahoma, promotes undergraduate research, scholarship, and creative activity in all fields of study.
"We are so pleased to support this experience for students," said SPA Dean Vicky Wilkins. "Participating in NCUR allows students to gain a deeper understanding of the academic world, and offers fresh perspective on the important issues they study."
The students — Aaron Torop (SPA/BA '18), Morgan Harris (SPA/BA '18), Crystal Assenmacher (SPA/BA '21), Lexi Ivers (SPA/BA '18), Brandan Persaud (SPA/BA '18), and Kyra Paul-Fowler (SPA/BA '18) — presented their research to a large audience and interacted with students and researchers who share similar interests.
"It was fascinating to see the breadth of what was presented at NCUR," said Ivers. "From the physics of contemporary dance to the impact of climate change in different states, I enjoyed talking about the research that I'm doing but was also excited to learn about what other students were doing."
SPA students presented their research on the following topics:
NCUR attracts more than 4,000 undergraduate researchers, faculty mentors, and other supporters of undergraduate research achievement. SPA sponsors students to attend because the experience provides a valuable opportunity for students to build transferable skills, explore career directions, prepare for graduate school, and contribute knowledge and new perspectives to the pressing issues of our time.