Research
SPA Sponsors Six Undergraduate Students to Present Research at National Conference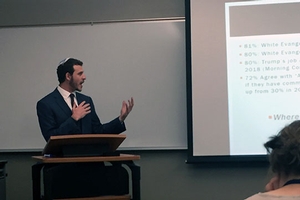 For the third year in a row, the AU School of Public Affairs (SPA) sponsored six students to attend the National Conference on Undergraduate Research (NCUR) to present their research. The conference, which was hosted by the University of Central Oklahoma, promotes undergraduate research, scholarship, and creative activity in all fields of study.
"We are so pleased to support this experience for students," said SPA Dean Vicky Wilkins. "Participating in NCUR allows students to gain a deeper understanding of the academic world, and offers fresh perspective on the important issues they study."
The students — Aaron Torop (SPA/BA '18), Morgan Harris (SPA/BA '18), Crystal Assenmacher (SPA/BA '21), Lexi Ivers (SPA/BA '18), Brandan Persaud (SPA/BA '18), and Kyra Paul-Fowler (SPA/BA '18) — presented their research to a large audience and interacted with students and researchers who share similar interests.
"It was fascinating to see the breadth of what was presented at NCUR," said Ivers. "From the physics of contemporary dance to the impact of climate change in different states, I enjoyed talking about the research that I'm doing but was also excited to learn about what other students were doing."
SPA students presented their research on the following topics:
Assenmacher presented "Police Performance, Effectiveness, and Impact," a look into whether African-Americans feel differently than Caucasians toward police at the local level.
Harris presented "An Examination of the European Union's Use of Lawfare Since 2001," which examines whether the usage rate of "lawfare" by the European Commission, European Parliament, and the Council of the European Union has increased since 2001, when the term was first coined.
Ivers presented "The Effects of Race/Ethnicity and Skin Complexion on Decision-Making: Examining Service Referral, Service Provision, and Placement Decisions for Black Girls in the Child Welfare System," which focuses on the adultification of African-American girls in the child welfare system. A recent study shows that adults tend to view African-American girls as less innocent and more adult-like than Caucasian girls of the same age.
Paul-Fowler presented "Trapped in Punitive Patterns? Understanding State Differences in Juvenile Transfer Rates," which focuses on ways the legal system deals with children, given their malleable characters and corrigibility.
Persaud presented "Strategies for Inclusive Sex Education for the LGBTQ+ Community," which aims to examine the inclusivity of LGBTQ+ content in sex education curricula for middle and high school students.
Torop presented "Religious or Not, Here They Come: The Impact of White Evangelical Protestant Identity on Vote Choice in the 2016 U.S. Presidential Election," which looks at the cause of the shift in religious identity and the impact it has on voters' choice.
NCUR attracts more than 4,000 undergraduate researchers, faculty mentors, and other supporters of undergraduate research achievement. SPA sponsors students to attend because the experience provides a valuable opportunity for students to build transferable skills, explore career directions, prepare for graduate school, and contribute knowledge and new perspectives to the pressing issues of our time.