International
Latin American Leaders and Former Ambassadors Discuss Upcoming Summit of the Americas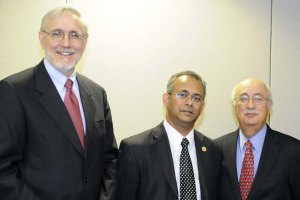 American University's Council on Latin America hosted a panel discussion on April 7 on the upcoming 2009 Summit of the Americas, which will convene 34 democratically elected leaders of the hemisphere later this month.
SPA dean William M. LeoGrande, a specialist in Latin American politics and U.S. foreign policy toward Latin America, introduced a panel featuring:
Albert Ramdin, assistant secretary general, Organization of American States
Ambassador John Maisto, former U.S. ambassador (2003–2006), Organization of American States; former U.S. ambassador to Venezuela (1997–2000); former U.S. ambassador to Nicaragua (1993–1996)
Ambassador Anthony Quainton, diplomat in residence, American University; member of the United States Foreign Service from 1959 to 1997
The panelists discussed evolving intra-hemispheric relations, new economic development challenges, and new dialogues on democracy and social policies, human prosperity, and the environment. Some common themes emerged, such as the importance of regional trade in promoting economic growth, the need for address challenges in energy and food security, and the desire for the US to be less an interventionist and more a partnering nation.
American University's Council on Latin America offers economic, political, and cultural activities as well as academic courses related to the countries and peoples of Latin America and the Caribbean. The council features one of the country's largest concentrations of faculty with interests in Latin America and provides students with a balance of knowledge of the Americas and the proficiency that comes with specialization.