Government & Politics
SPA Professor Speaks at Congressional Briefing on Justice for Women and Girls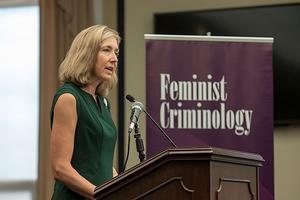 Lynn Addington, AU School of Public Affairs (SPA) professor, was one of a dozen scholars who spoke at an October congressional briefing on Capitol Hill about strengthening programs, legislation, policies, and funding aimed to improve justice for women and girls.
At the briefing, sponsored by the American Society of Criminology's Division of Women and Crime, researchers made evidence-based policy recommendations on a range of issues including participation of women in peacekeeping efforts, responses to campus gender-based violence, and recruiting female law enforcement officers.
In her testimony, Addington highlighted the need for increased funding for data collection on the use of victim services by women. Although the federal Office of Victims of Crime invests billions of dollars annually in victim services, it collects relatively little information on the effectiveness of those programs.
"To ensure this money is spent wisely, we need more data on the services that victims use, their satisfaction with those services, and barriers to obtaining services," said Addington. "This information is especially needed for underserved, at-risk groups, which include women of color, lesbian/bisexual/transgender women, immigrant women, and poor women."
In her remarks, Addington recommended more funding for the existing data collection infrastructure at the Bureau of Justice Statistics and FBI. She also called for data to be collected on the availability, use, and effectiveness of victim services, which may require new collection efforts by federal agencies. This information should also be widely disseminated to policymakers, researchers, practitioners, and the public using web-based tools and interactive features so users can customize the data reports they need, suggested Addington.
"I wanted to be involved in this briefing given the current climate that continues to highlight the need for a greater understanding of issues around violence against women," added Addington.
The briefing, which emphasized an urgent need for feminist criminological scholarship to drive public policy, was attended by congressional staff members and representatives from various federal agencies and policy groups. Policy essays from each testimony will be published in a special issue of Translational Criminology, the magazine of the Center for Evidence-Based Crime Policy at George Mason University.