Alumni
SPA Alumna to Lead the Democratic Senatorial Campaign Committee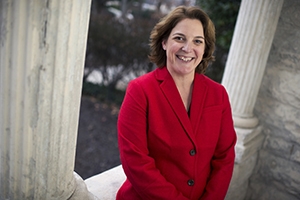 American University School of Public Affairs graduate Mindy Myers, SPA/BA, is the new Executive Director of the Democratic Senatorial Campaign Committee – the first woman to hold this post.
Myers previously oversaw the Democratic Senatorial Campaign Committee's (DSCC) independent expenditure efforts through the 2016 campaign cycle. She also managed Senate campaigns and worked for Democratic Senators Elizabeth Warren and Sheldon Whitehouse.
According to an article published on December 21, 2016 by Roll Call, Myers said in a statement that the organization is "committed to building a top-notch and diverse staff to win in 2018, and I am excited to get to work right away."
Myers' campaign experience has centered on New England, a Democratic stronghold. But her supporters say that doesn't diminish her ability to succeed in other regions.
Early this year, Myers was interview by American University's Eagle where she gave advice about how to get involved in political campaigns.
"Whether you want to go help out on a senate race or a presidential campaign, don't wait for the perfect opportunity. Just throw yourself into something and take advantage of all the opportunities that you have at AU," said Myers.