On Campus
American University Launches Center for Environmental Policy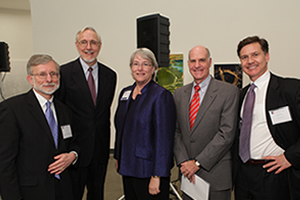 American University formally launched the Center for Environmental Policy at the University's Katzen Arts Center on the evening of October 13, 2010.
Over 100 invited guests from the University, government agencies, research organizations, advocacy groups, and others joined School of Public Affairs Dean William LeoGrande and Center Director Daniel Fiorino for a reception and program featuring Daniel C. Esty, the Hillhouse Professor of Environmental Law and Policy at Yale University and Director of Yale's Center for Environmental Law and Policy.
Gail Bingham, President-Emeritus of Resolve and a member of the Center's Program Advisory Board, served as the moderator for a discussion on Environmental Governance, Past and Future: A Conversation with Dan Esty. Among the topics considered in the discussion were the current state of environmental and sustainability politics in the United States, the prospects for action on climate change, and environmental performance here as it compares to other countries. The conversational format is a sign of the Center's emphasis on policy dialogue and problem-solving based on sound analysis. The Center's theme of achieving effective environmental governance also emerged as an important topic in the discussion.
As part of the program, the University Provost, Scott Bass, shared his thoughts on the role of the Center in the University's strategic plan and the commitment the University on incorporating environmental and energy sustainability into its practices.
Daniel Fiorino introduced members of the Program Advisory Board who were present for the event. They included, in addition to Gail Bingham:
Stanley Abramson, Arent Fox
Donna Adkisson, Wider Opportunities for Women
Stephanie Aument, Calvert Investments
William Bozzo, DynMcDermott Petroleum Operations
Patricia Calkins, Xerox
David Clarke, Inside Washington Publishers
Timothy Fields, MDB, Inc.
Tracy Mehan, The Cadmus Group
Thomas Murray, Environmental Defense Fund
Frank Priznar, PRIZIM
David Rejeski, Woodrow Wilson International Center for Scholars
Jo Anne Shatkin, CLF Ventures
Members who could not attend the event but were announced were Ted Carter (CB Richard Ellis); Debra Knopman (RAND), and George Schaeffer (Soltage).