Alumni
Politico Names SPA Alumna One of 19 on the "Politico Playbook Power List"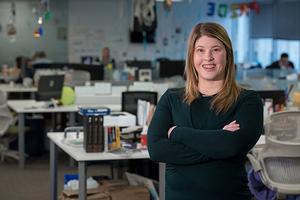 An SPA alumna who has experienced the electoral extremes of anguish and ecstasy has been named to the "Politico Playbook Power List: 19 to watch in 2019," placing her among the country's most influential lawmakers, partisan activists, and behind-the-scenes operatives on the newspaper's annual all-star team.
Anne Caprara, SPA/BA '01, began 2019 in Springfield, Illinois as Chief of Staff to incoming Governor J. B. Pritzker. She managed his campaign to unseat incumbent Bruce Rauner in November 2018.
"I always say that winning on election night is the greatest feeling you'll ever have, and that losing on election night is the worst feeling you'll ever have," says Caprara, who previously worked at the Democratic Senatorial Campaign Committee and as Chief of Staff to two members of the House of Representatives.
"Maybe it's a cliché but it's true," she adds. "Your losses do teach you more. In 2016 with the Hillary Clinton Campaign, we thought we had a winning strategy. While I hate to lose and while its really, really tough on election night, losing should shape how you handle your next election."
When Pritzker, who ran and lost a bid for Congress in 1998, hired Caprara to run his campaign, Caprara made it clear that genuineness and voter outreach – not flooding the airwaves with negative ads – would be the key to toppling Rauner.
"You sell people by their personality, their authenticity, who they are," said Caprara. "J. B. is one of the most gregarious, funny, nice, disarming people you'll ever meet. He is a naturally-gifted campaigner who really, genuinely cares about people. I wouldn't say that it was hard to sell him at all."
The 2018 Illinois campaign, Caprara says, was a reflection of her own candidacy for the AU Student Confederation, back in 1999.
"The best training I ever had was at American University," she said. "When I ran for AU Student Confederation, I had a campaign team and I raised money and I had really fancy signs and a website – which at the time was a big deal -- and I had an advertisement that will never see the light of day again. I lost to a guy that knocked on very single door and talked to every single student. I have never forgotten that. You can have a lot of fancy material and advertisements and staff, but if you are not engaged with the voters then you will not win."
Asked her reaction to the Politico listing, Caprara said that "It's always nice to get some recognition. I love my work and I've wanted to work in politics since I was in high school. 2018 was a really good year."