Achievements
AU Attracts More Coverdell Fellows Than Any Other Institution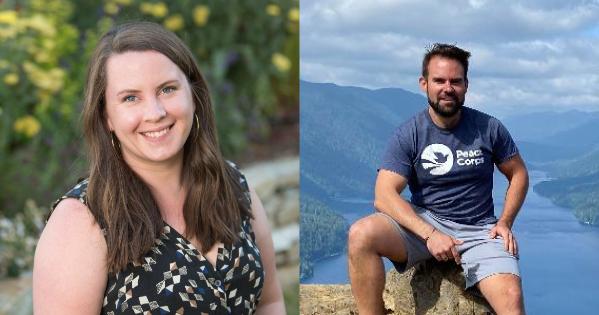 Peace Corps volunteers who return to graduate school with the help of Paul D. Coverdell Fellows Program scholarships are more likely to choose American University than any other institution. Ten students at the School of Public Affairs are among the fellowship winners.
Established in 1985, the Coverdell program works with 120 higher education partners in 38 states and the District of Columbia to provide financial assistance for graduate and post-graduate degrees. In return, students are required to apply the skills they learned in the Peace Corps by volunteering in underserved communities in the U.S.
Antonio Muron, SPA/MPA '22, spent 2015-2018 with the Peace Corps in Mozambique, working on food security, HIV, malaria, and agriculture projects. He says he was drawn to graduate school at AU and accepted his offer before learning he was offered the Coverdell distinction.
"It's made a world of difference," Muron said of the scholarship. Coverdell covers about half the cost of his AU tuition, enabling the 31-year-old to avoid student loans.
In addition to being a full-time student, Muron works full-time as a senior volunteer placement and assessment officer with the Peace Corps and provides data entry support to Associate Professor Khaldoun AbouAssi as a research assistant. He also tutors middle school and high school students at the Latin American Youth Center in D.C., to satisfy the program's community service requirement. "It's a place where kids can come to feel safe and learn about themselves, doing everything from music classes to art," he said. "Not only is the student learning, but I'm learning, through experience, a lot of great teaching methods."
A self-described proud Latino from Richmond, Virginia, Muron feels that fellow transplants to D.C. should get involved. "Being a part of a community is extremely important, and it starts with getting to know your neighbors," he said. "We have to learn as much as we can and try to balance our impact in a positive manner."
After completing his MPA, Muron plans to apply to be a commissioned officer in the U.S. Navy or go to law school to become a civil rights or immigration attorney. "My ultimate goal in life is to figure out a way to motivate my peers to understand that being inclusive is not an easy job, but a worthwhile one," he said. "I would like to find a way to work with community leaders in teaching people, especially folks who live more privileged lives, how to be community members. By continuing this lifelong process, we bring positive inclusivity to our organizations, our education system, and our communities."
Another Coverdell Fellow, Laurel Wolf, SPA/SPA '21, came to AU with an interest in international development management and environmental issues. As a Peace Corps agroforestry extension agent in Senegal from 2016-18, she worked with vegetable farmers to diversity their crops; upon return, she translated these lessons in support of a food security organization in upstate New York.
The Coverdell Fellow opportunity motivated Wolf, who is from Portland, Oregon, to join SPA in the fall of 2019. She said the community service aspect fit well with her career interests and improved her familiarity with D.C. Initially, she volunteered with the nonprofit Raising A Village Foundation, an after-school youth program run by Jaleesa Hall, SPA/MPA '14, but also spent a week in Immokalee, Florida, helping advocate for migrant farm workers.
"It was really interesting to see the challenges and injustices that farmworkers faced there," she said. "I saw how you could combine community gardens with advocacy and activism."
In early 2020, Wolf got a job at Environmental Incentives, a small consulting firm based in California. She works on a contract with USAID Latin American and Caribbean Bureau doing communication, research, and design work on environmental issues.
"I really wanted to be a part of government agency in action. That's why I wanted to be at SPA in the first place," she said, noting that her AU project management class has been particularly useful in her work. "I love seeing an idea go from start, to mid, to end. It's work that I'm really well-suited to, and it's definitely something that my graduate degree has prepared me for."
Wolf, 30, credits the Coverdell Fellow distinction for providing both financial support and a sense of value. "The other awardees were a great start to building community at AU," she said. "I was excited to get a Coverdell for a program that wasn't specifically related to international development. It was nice to have that flexibility and see that my skills as a Peace Corps volunteer weren't just about being in another country. They're also about skills that I can bring home."
For a list of all Paul D. Coverdell Fellows Program institutions across the nation, including degrees, financial assistance offered, and university contacts, visit the website.