Government & Politics
First Ladies Association for Research and Education (FLARE) Studies the Impact of First Ladies Over Time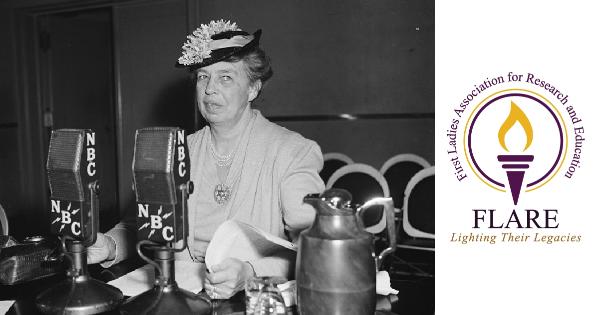 Eleanor Roosevelt, a noted activist in multiple contexts, considered the role of first lady to be the ultimate opportunity for impact, or the "position where I can do the most good to help the most people." In the decades before and since, first ladies, who wield no constitutional or statutory authority, have nevertheless done much to further national and international policy on topics such as civil rights, music and the arts, conservation and historic preservation, and international relations, leaving fascinating legacies in their wake.
While scholars and national institutions, such as the White House Historical Association, have done much to celebrate these influential women, the field has just announced the nation's first association dedicated to the study of the evolving roles and history of America's first ladies, and SPA boasts a pivotal role in its formation and operation. This just-launched initiative, named the First Ladies Association for Research and Education (FLARE), will unite scholars, institutions, members of first ladies' staff, biographers, archivists, journalists, and public historians to explore the policy and cultural legacies of America's first spouses.
"Remarkably, there are no formal professional associations that specialize in or encourage the public and scholars to learn from the leadership of our first ladies," said Anita McBride, director of American University's First Ladies Initiative, SPA executive-in-residence, and former chief of staff to First Lady Laura Bush. "It is our goal that FLARE will spark interest in an examination of the role these women performed in the White House, and in American society, and how first ladies are not only a mirror of their times but have been leaders on issues of national importance."
"American University has had a long history in working with first ladies, dating back to Eleanor Roosevelt," she continued. "Our library has a photographic history of first ladies being hosted here or hosting an event themselves. From that perspective, AU as a whole, and SPA as a school, have approached this role in our society from a serious and scholarly perspective."
SPA began its investment in the impact of first ladies over a decade ago, when AU President Neil Kerwin brought in McBride, who had served as director of White House personnel under Presidents Ronald Reagan and George H. W. Bush, White House Liaison at the U.S. Department of State, and Chief of Staff to First Lady Laura Bush, to create the First Ladies' Initiative (FLI).
"President Kerwin came to visit with me at the White House, as I was leaving the Bush Administration, and said that he'd been watching with growing interest the influence of first ladies, on the country and on public policy in particular, and really was interested in how I would develop something around that." said McBride. "I had just come from having a front row seat in working for a first lady, so [I brought] a good perspective and a great number of contacts in the field."
In partnership with the National Archives Presidential Libraries and the White House Historical Association, FLI convened a series of conferences on the legacies of first ladies, featuring renowned historians, former presidential advisers, first ladies' staff, veteran members of the White House press corps, and American University faculty.
"Our first conference [in 2011, at the AU Katzen Center] was a day-long event," said McBride. "It was really successful; all [at the time] 11 Presidential Libraries participated, with their directors coming here from all over the country. It really put wind in our sails to say: this is a topic in our history and contemporary life that people are interested in, and it calls for a convening authority to help foster this discussion and examination."
With the support of AU and SPA leadership, FLI has hosted seven subsequent conferences in partnership with the National Archives and Presidential Libraries and the White House Historical Association, featuring national experts as well as former and sitting first ladies. In addition, McBride contributes to panels and media as a subject expert and facilitates international dialogue on the legacies of first ladies and connected topics. The AU partnership with the White House Historical Association, in particular, helped establish a series of fellowships for American University graduate students, many of whom proceeded to join the Association as full-time staff and contribute to scholarship or programming on this and other subjects in White House history.
 
 "Our university has helped to elevate this topic of the role of first lady, in partnership with other historical and cultural institutions," said McBride. "The First Ladies Initiative and its partnerships really shined a bright light on the study of first ladies from an academic and practical perspective."
These connections rendered AU a natural partner for FLARE. In addition to McBride, FLARE's seven founding members include Diana B. Carlin, professor emerita of communication at Saint Louis University; Myra G. Gutin, professor emerita at Rider University; Elizabeth J. Natalle, associate professor, University of North Carolina at Greensboro; Katherine A.S. Sibley, Director of American studies and professor of history, Saint Joseph's University; Nancy Kegan Smith, retired Director of the Presidential Materials Division at the National Archives and Records Administration; and Molly Meijer Wertheimer, professor of communication arts and sciences at the Pennsylvania State University, Hazleton.
Smith, Carlin, and Gutin, first approached McBride with the idea for FLARE in 2019. The group developed a proposal and presented it to SPA Dean Vicky Wilkins, who immediately recognized the potential of such a wide-reaching external partnership to enhance the school's ongoing work.
"FLARE's vision and mission to work collaboratively in fostering the scholarly study and promotion of the legacies of America's first ladies leverages our shared interest in producing high caliber research and offer world class programming to our students and community and the nation," said Wilkins. "As the first university to establish a specific initiative focused on the study of first ladies, we are the ideal collaborator for this exciting organization."
FLARE has an impressive slate of programming lined up. As part of its mission, FLARE plans to convene national conferences, publish an online journal, produce podcasts, facilitate research circles and networking for projects, and offer expertise to other organizations through a speakers' bureau. One such panel is already planned for November, with the Jefferson Educational Forum in Erie, PA.
FLARE also looks to serve as a repository for first ladies research. The body of scholarship has grown from correspondence and memoirs to biographies, histories, and analyses examining the impact of their policy initiatives, communication styles, or cultural influence. More recently, experts have written from a regional perspective, such as the reality of slaveholding first ladies from the South, or curated collections.
The formation of FLARE was heavily influenced by Lewis L. Gould, Eugene C. Barker Professor Emeritus at the University of Texas, who is considered the godfather of first lady scholarly study. Gould taught the first-ever university course on first ladies in 1982, published a groundbreaking book in 1989, and mentored experts in the field, including Gutin and Smith, FLARE's founding president and vice president. FLARE plans to establish an award in his honor.
In addition, in the fall of 2023, McBride and two other FLARE founding members plan to publish a textbook for first ladies, the first of its kind. "That is an exciting step forward in the scholarly study of first ladies, that recognition by a major publisher that there is no textbook and one is needed," McBride said.
"For me, and scores of others who have studied and educated us about the American first lady, FLARE is a long-overdue dream come true," said Myra Gutin, FLARE's founding president. "This determined group will expand our understanding of the president's spouse. We are grateful to American University's School of Public Affairs for joining us in this endeavor and look forward to highlighting the accomplishments of the women who have stood beside the president and have served our country so well."
FLARE has begun to consider how the possibility of a first gentleman in coming years may change the conversation. "We tackled this in 2008 when Hillary Clinton was running for president," said McBride, ". . . and we're watching it now with the spouse of the vice president, who basically has taken on an extraordinarily traditional role, supportive to the principal, carving out a place of their own, and fulfilling social obligations. Maybe this really is a gender-neutral position."
The relevance of the gender of the role is secondary in importance to protecting and promoting the legacies of past first ladies and their remarkable impacts on society, she continued.
"Regardless of the inevitable change for the president's spouse," said McBride, "we still have a story to tell of the 40+ women that have contributed to our nation's history, and I am glad that SPA and American University are at the forefront of telling it."