Achievements
First Place for American University in National Leadership Competition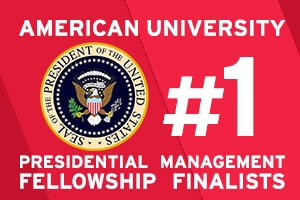 American University, for the second year in row, finished first in the federal government's Presidential Management Fellowship Program with 42 finalists, including students and alumni from The School of Public Affairs.
"I'm very pleased to learn that American University is leading the nation as part of this prestigious program," said Barbara Romzek, Dean of American University's School of Public Affairs. "It's a wonderful training ground for future leaders in politics and policy."
AU outpaced George Washington University, Georgetown, Johns Hopkins, and the University of Maryland. AU succeeded, despite a 32-percent decline in the overall number of candidates nationwide, from 1,200 to 808.
Presidential Management Fellows receive 160 hours of intensive management and leadership training at one or more federal agencies, fulfill a four to six-month developmental assignment, undergo regular evaluation and assessments, and are eligible for conversion to a full-time or term position upon the successful completion of the program. The fellowship was established in 1977 by President Jimmy Carter.