Education
#AUTakesNI: Scholars Program Students Study Civil Rights in Northern Ireland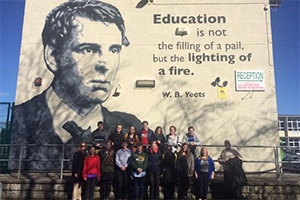 While many students were relaxing over Spring Break, 15 students from American University's Scholars Program spent the week traveling across Northern Ireland.
The students – led by Professor Kimberly Cowell-Meyers of the School of Public Affair's (SPA) Department of Government – met with politicians, policymakers and activists to learn about Northern Ireland's notoriously segregated education system.
With only a population of 1.8 million, Northern Ireland has a complex and fragmented education system in which more than 90 percent of students attend schools that are either controlled by Catholic or Protestant authorities, according to the U.S. State Department.
To learn more about the makeup of the schools, SPA students visited all three types of schools (Catholic, Protestant and integrated), interviewed students, faculty and administrators, listened to debates between the Social Democratic Labour Party (SDLP), the Democratic Unionist Party (DUP) and Independent Unionist parties, visited the Stormont Parliament and had presentations from academics leading the campaign to reform Northern Ireland's schools. They also spent an evening with education majors at Queen's University of Belfast and spoke with policy leaders such as Deputy Chair of the Education Committee in Stormont, the Ulster Unionist Party's Danny Kinahan.
Students also met with officials at Nerve Centre, a youth organization in Londonderry/Derry, to learn more about the divide. The class has partnered with the Nerve Centre to help them expand the use of their curriculum for teaching divided histories in the secondary schools in Northern Ireland and plans to conduct two separate surveys on their behalf.
"The students seemed to have a great experience. They were very open to learning and wonderfully engaged," Cowell-Meyers said. "They saw up close what a deviling or 'wicked' problem reconfiguring the segregated education system in Northern Ireland poses and came to appreciate the logistical, financial, cultural, educational and religious challenges of reform."
In addition to active participation on the ground, students shared photos, lessons and updates on their itinerary using the hashtag, #AUTakesNI.
Their coverage provided visibility and engagement worldwide. The pictures were a spectacular porthole that illustrated daily life in Northern Ireland, including the culture and politics in rural and urban areas of the country.
"The students asked great questions and puzzled and probed and learned as we went," Cowell-Meyers said. "They were terrific ambassadors of AU abroad and I was enormously proud of them."