Research
Award to Study Impact of COVID-19 on Vulnerable Vendors in Africa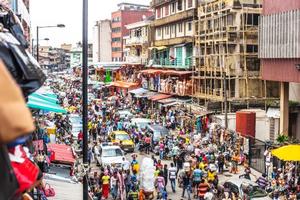 SPA Associate Professor Adrienne LeBas has received the Abdul Latif Jameel Poverty Action Lab (J-PAL) award for a project to study the effects of COVID-19 on market vendors in Africa's largest city, Lagos, Nigeria.
The nearly $33,000 grant will fund a series of phone surveys to a random sample of about 1,500 vendors across 164 city markets. The project will assess the economic, social, and security impacts of the pandemic crisis, and attempt to capture the vulnerability and resilience of a large subset of the African population during the state-enforced lockdown.
LeBas' study, which will run through December 2021, will explore how vendors and market associations make decisions about whether to comply with the lockdown. While some sellers have remained active, these vendors may be facing loss of income, household food insecurity, anxiety about the viability of their businesses, an uptick in community criminal activity, and a greater possibility of violence within their own homes.
The project will also examine measures to ensure the safety and security of shop stalls and marketplace infrastructure, given the heightened possibility of crime. Continued operation could expose vendors to extortion by informal security actors, such as gangs, or to excessive physical risks from state security forces policing the closures.
The survey responses will provide insight into strategies for pandemic response, and the relative vulnerability of certain actors in the urban informal economy, such as ethnic minorities and women. The goal is to inform policymakers about vendor needs, and to identify which groups are more likely to demand and accept state-provided services. This exploratory research will lay the groundwork for a policy intervention on economic and security risk mitigation, conducted in coordination with an appropriate Lagos state government agency.
LeBas partnered with Jessica Gottlieb, assistant professor at Texas A&M, on the Lagos project, which will build on their past research on the region.
The Jameel Poverty Action Lab, housed at MIT, is one of the world's foremost centers for experimental research on economic development and poverty, and the center's two directors, Esther Duflo and Abhijit Banerjee, were awarded the Nobel Prize for Economics in 2019. Faculty affiliated with J-PAL conduct randomized control trials and impact evaluations all over the world, and advocate for the use of scientific evidence to design and evaluate public policies.