On Campus
Film Screening Spurs Discussion on Progress of Women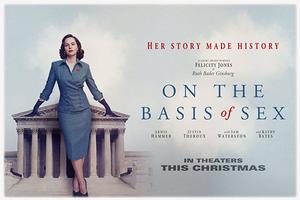 The opening scene of "On the Basis of Sex" shows a sea of men in suits walking into Harvard Law School — and Ruth Bader Ginsburg, one of only nine women in the class of 500 in 1956. The movie, which was screened in February, chronicles the early, glass-shattering career of the U.S. Supreme Court Justice known for her legal fight against gender discrimination.
"The film shows how [Ginsburg] uses her intellect and creativity," said Vicky Wilkins, dean of the AU School of Public Affairs (SPA), which sponsored the screening and panel discussion afterward. "She worked within the system and had the knowledge and skill set to know how to do that."
"There are many ways to serve — through sweat, intellect, or research — and all those approaches are needed to make a difference with policy," added Wilkins. "I credit Ginsburg with knowing where she could have the greatest impact."
Event organizer and moderator Betsy Fischer Martin, executive director of the SPA Women & Politics Institute, noted that Ginsburg knew how to leverage power.
"She appreciated the fact it had to be done incrementally. She couldn't come right out of the gate trying to change everything," said Fischer Martin, of the young attorney's methodical approach to arguing one case at a time to change legal precedent for women's rights.
"[Ginsburg] was able to see change was coming and culture was beginning to shift, but it had to be done in a slow way," said Beth Frank, adjunct associate professor at the AU Washington College of Law, adding that her students are also passionate about continuing the fight for women's rights.
The panel spoke about the intersection of the civil rights movement and the women's movement as well as the strategies that continue to be employed today. They reviewed progress made with more professional opportunities for women, equal pay legislation, and improved representation in Congress. Yet challenges with state laws remain, affecting reproductive rights, protecting the transgender community, and increasing the number of women in boardrooms.
 "There was not a final point," said Wilkins of the push for equality. "We are still fighting for different types of power and privilege in society."
Watching the film as a group and reflecting on it with experts was a great opportunity for the AU community, said Fischer Martin: "I hope the students left feeling empowered, think about the issues raised in the film, and take that inspiration to do something with it."