Government & Politics
Center for Congressional and Presidential Studies Hosts Bipartisan Conversation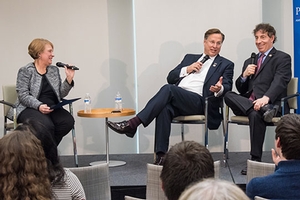 The American University School of Public Affairs (SPA) hosted U.S. Democratic Rep. Jamie Raskin (D-MD) and Republican Rep. David Brat (R-VA) on campus for a discussion that highlighted the lawmakers' philosophical differences and, more importantly, their areas of common ground.
The event was not about changing minds; instead, it aimed to encourage dialogue and build trust between parties.
David Barker, director of SPA's Center for Congressional and Presidential Studies organized the event and introduced the congressmen.
"The mission of CCPS is to deepen political understanding and promote democratic reasonableness," said Barker. "In these polarized times, this is about hearing the other side with more empathetic ears."
Brat, an economics professor who earned a doctorate at AU, stunned the political establishment in 2014 by beating House Majority Leader Eric Cantor in the Republican primary and winning the Congressional seat in the 7th district. Upon taking office, Brat said he was greeted with "open arms" on the Hill and was shocked by how fellow legislators got along – many of whom work out together in the House gym.
"Everyone can get along personally; that doesn't mean you have the same political philosophy," Brat explained. "You can vote different, represent different constituents — that's the way it's intended to be."
What surprised Raskin after election to the House in 2017 to represent Maryland's 8th district was the lack of public hearings that he had been accustomed to in the Maryland Statehouse.
"At the heart of the legislative process are hearings, but in Washington you just show up for a markup, then vote," said Raskin, who was also a long-time AU law professor.
Brat explained his conservative ideology was based on the writings of James Madison and Adam Smith who emphasized a smaller federal footprint and advocated for state experiments. Raskin told the audience that he embraced his label as a progressive liberal, noting that those terms denoted liberty and moving forward.
Brat and Raskin have clear differences on immigration, health care, and other issues, but they do agree in some areas. They both lamented the role of money in politics, although each noted he won his seat despite being outspent by his opponent. The congressmen each discussed the need for improvements in infrastructure and education but differed on approach and funding.
SPA professor Jan Leighley, who moderated the event, said the lawmakers fulfilled the invitation to engage in a dialogue. "They really identified that they both want to have more extended conversations and an ability to craft legislation that could satisfy different priorities or goals," said Leighley. "But they feel there isn't sufficient opportunity to do that."
Josee Molavi, CLEG '21, said the event was lighthearted and civil.
"A lot of times you don't see a lot of honest conversation going on between legislators," Molavi said. "I think that both congressmen are incredibly smart. Even if they come from different sides of the aisle, I think they both bring really valid points, and I was really excited to see them on campus."
Raskin said he hoped students left with a better understanding of the process in Congress.
"Congress is not locked into our ideological camps," Raskin said. "We are real people, and we can actually put our heads together to move things forward in a more creative way."