In the Community
SPA Celebrates Black History Month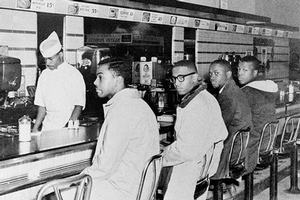 The AU School of Public Affairs will celebrate Black History Month in February with activities and events both online and on campus at Kerwin Hall.
Throughout the month, SPA will share quotes, stories, and the history of important African American figures in United States history. You can follow along on all of the school's social media platforms, including Twitter, Facebook, and Instagram, and on its website.
"As a school of public affairs, it is our responsibility to ensure our students are educated about and inspired by the struggles and accomplishments of black Americans," said SPA Dean Vicky Wilkins. "I am pleased that SPA is finding ways to remember, honor, and celebrate black history."
Black History Month is an annual celebration of accomplishments by black Americans. It evolved from a weeklong celebration established by noted historian Carter G. Woodson in 1926. Woodson's mission was to help schools focus on the topic; he chose the month of February to highlight the birthdays of Frederick Douglass and Abraham Lincoln. Since 1976, every U.S. president has officially designated the month of February as Black History Month. Other countries around the world, including Canada and the United Kingdom, also devote a month to celebrating black history.
"Being a part of the planning conversations and brainstorming in how to honor Black History has been a wonderfully exciting experience to see come to life," said SPA Adjunct Professorial Lecturer, Bev-Freda Jackson, who helped plan activities for February. "Landing on the creation of posters, bio sketches, and the use of technology to tell share so many stories that speak to an appreciation of African American history and culture with my SPA colleagues, as both faculty and an alum, makes me proud."
"The African American freedom struggle is the most inspiring protest movement in our nation's history," said SPA Professor Gregg Ivers, who is a member of the American University Committee on Faculty Diversity and Inclusion and helped plan for SPA's Black History Month celebration. "And, yet, underneath the struggle for basic human rights and dignity is a rich, inspiring and original tapestry of art, music, philosophy, scientific innovation and so much more that are so interwoven into American life that few people know where it originated. Black History Month is our opportunity to share with the AU community a basic truth: that African American history and American history are inseparable."
The school has other activities in store for February, including an art contest, which will be launched later this month. Please check back often for updates and information as SPA celebrates Black History Month.