Achievements
BleakHouse Press Honors Outstanding Writers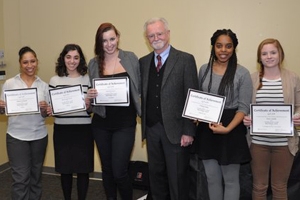 BleakHouse Publishing, an independent, not-for-profit press devoted to social justice, recently hosted an annual awards ceremony to honor the most outstanding BleakHouse writers of the year.
The ceremony featured readings from Chandra Bozelko's new book, Up the River, and from Zoe Orfanos' new book, An Elegy for Old Terrors; the launch of Tacenda Literary Magazine; the presentation of literary awards for best book, play, short story, essay, poems and artwork, and the Social Justice Advocacy Award, and the naming of the Victor Hassine Memorial Scholars, Distinguished Writers and Artists Guild and BleakHouse Fellow.
The press, founded in 2006 by Robert Johnson, editor and a professor of justice, law and criminology, publishes creative writing that sheds a humane light on men and women entangled in the justice system. Many of its published writers are current or former prisoners. American University students and alumni play active roles at the press as staff members, poets, bloggers and creative thinkers.
"The creativity and resilience of our authors reveal an often unacknowledged side of incarcerated Americans," said Johnson. "Seeing criminals through a softer lens, the works we publish raise questions about our system's harshest punishments." 
Johnson said BleakHouse explores a range of topics, "all of them hopeful variations on the bleaker qualities of human existence"--from addiction, to violent crime, to the existential challenges of everyday life. "There is no issue bearing on the human condition—that to live is to suffer—that BleakHouse contributors will not engage," he said.

| | |
| --- | --- |
| Aubrey Rose, BleakHouse Fellow for academic year 2013-2014, with Alexa Marie Kelly, BleakHouse Fellow for academic year 2014-2015, and Robert Johnson. | Zoe Orfanos reads from her new book with BleakHouse, An Elegy for Old Terrors. |
| Joanna Heaney and Nora Kirk, recipients of the Victor Hassine Memorial Scholarship, with Robert Johnson. | Sonia Tabriz, Liz Calka, admitted to the Distinguished Writers and Artists Guild, with Robert Johnson. |