Achievements
BleakHouse Poetry Press honors social justice writers, artists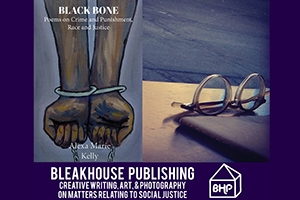 BleakHouse Publishing, an independent press founded by School of Public Affairs Professor Robert Johnson recently honored members of the publishing house for their outstanding work.
SPA undergraduate Tatiana Laing was recognized at the annual awards ceremony for her work as an alternative breaks leader, writer and #BlackLivesMatter activist. She and American University senior Alexa Marie Kelly were awarded the annual Victor Hassine Memorial Scholarship.
Laing also will be the 2015 BleakHouse Fellow. In this role, she will work with Johnson to produce creative, social justice work.
Rachel Ternes, another AU senior, was honored for her outstanding artwork. She created paintings for the covers of Kelly's new book, Black Bone: Poems on Crime and Punishment, Race and Justice, and Chandra Bozelko's book, Up the River.
Ternes' work earned her acceptance into the BleakHouse Distinguished Writers and Artists Guild. She is the first undergraduate to receive this honor.
Johnson said he was very proud of the honorees, particularly the students.
"It's a wonderful thing. I get students from all across the university … I'm very fortunate," he said. "It's probably the most gratifying thing I do at the university, as an extension of teaching."
The awards ceremony – held March 26 at the Mary Graydon Center - kicked off with Kelly reading from her book's titular poem, Black Bone. She said her poem addresses racial profiling and sentencing inequalities in the criminal justice system.
Kelly also produces BleakHouse's literary magazine, Tacenda, each year, and she recognized this year's published Tacenda writers for their achievements.
Bozelko, another BleakHouse author, was honored for Up the River. Her poetry collection reflects on her time in prison and moves through a number of voices, including judges, prison guards, nurses and prisoners.
In her remarks, Bozelko thanked BleakHouse for the opportunity to publish and urged the audience to listen to prisoners because, doing so, was the start of a "revolution."
The night's Social Justice Advocacy Award went to Diann Rust-Tierney of the National Coalition to Abolish the Death Penalty.
Johnson said the advocacy award "is something we're very proud of."
He also pointed out that, in the case of Bozelko and others before her (notably Charles Huckelbury and Erin George), Bleakhouse pushes to publish work from writers outside AU.
"We have such an exciting group of people contributing to us. … When we can, we try to use the work of people in prison or formerly in prison," he said.
In a special moment at the ceremony, BleakHouse veteran Sonia Tabriz thanked Johnson for his support and guidance. Tabriz read praise for Johnson that was written by the students he has mentored over the years.
The non-profit poetry press, started in 2006 by Johnson, tackles issues within the criminal justice system - from the death penalty and mass incarceration to police brutality and racial prejudice.