Research
School of Public Affairs Faculty Member Named Russell Sage Visiting Scholar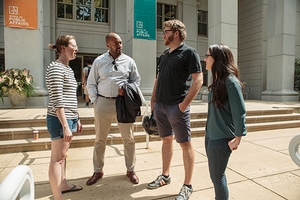 American University School of Public Affairs (SPA) Associate Professor Bradley Hardy is among 15 social scientists selected by the Russell Sage Foundation to be a visiting scholar for the 2018-2019 academic year. He will work out of the organization's headquarters on the Upper East Side of New York City beginning in September.

"It will be beneficial to interact with a group of visiting scholars who are really at the top of their fields, and it will also be great to have the time to be able to focus on my work," said Hardy. Other academics in the program come from Princeton University, Harvard University, and Northwestern University, among others.

During his sabbatical, Hardy plans to look at the role of historical racial segregation in driving contemporary economic outcomes. His research will build on a 2017 paper published in Economic Letters, "Location Matters: Historical Racial Segregation and Intergenerational Mobility," that he co-authored with Rodney Andrews, Marcus Casey, and Trevon Logan. Where someone lives is a large predictor of movement up the economic ladder. Hardy's team linked that data with information on racial segregation as far back as 1880 and showed that higher levels of racial segregation still predict lower economic outcomes at the geographic level in modern times.

Those patterns have profound economic and social costs.

"One of the things that you see with inequality is that it represents lost human potential," said Hardy, who hopes to examine during the visiting scholars program what is contributing to the correlation. "This is in line with my interest in poverty, economic mobility, and understanding those mechanisms."

The Russell Sage Foundation, one of the country's oldest foundations, was established in 1907 for the improvement of social and living conditions in the United States. In its early years, it undertook major projects in low-income housing, urban planning, social work, and labor reform.

"I'm excited to have the opportunity to push forward on these research topics," said Hardy, "and I'm grateful to my colleagues at SPA because they have been a big part of supporting and improving my scholarship. In part, I feel like they were awarded along with me. I didn't do it alone."