Government & Politics
Timely Discussion of Brexit as Vote Looms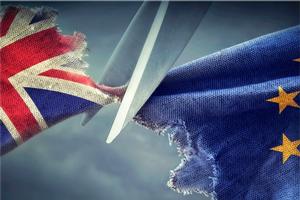 With news of a possible deal on the United Kingdom leaving the European Union looming, a panel of American University experts gathered to discuss Brexit at an event sponsored by the School of Public Affairs (SPA) and the E.U. Transatlantic Policy Center in the School of International Service (SIS) on October 15th.
SPA Assistant Professor Kimberly Cowell-Meyers helped lead the conversation, which featured seven scholars from SPA, SIS, the Kogod School of Business, the College of Arts and Sciences, (CAS) and the Washington College of Law. Two separate panels analyzed the economic, legal, political, and social implications of the U.K.'s potential withdrawal from E.U.
"Since the referendum on June 23, 2016, when the British public voted by a narrow majority to depart from European Union, we have had a tumultuous series of events," said Cowell-Meyers, ticking off a list of unprecedented actions by the courts, parliament, and prime ministers. "Brexit would present the first departure of a member state from the European Union, adding a remarkable strain on the remaining 27 other members."
The speakers reviewed the causes, controversies, and consequences of the surprise vote that has consumed U.K. politics and cast a pall of uncertainty over business.
In the campaign for Brexit, Cowell-Meyers said not much thought was given to the impact on Northern Ireland as the only E.U. country with a land border with the U.K. -- a problematic sticking point in the negotiations and with potential complications for the Good Friday peace agreement.
Support for leaving was fueled by liberalization of the British economy and the financial crisis of the late 2000s, suggested SIS Professor Michelle Egan. "The core business of the E.U. is the single market. That's the workhorse of European integration," she said. "Leaving is going to be a massive undertaking."
While some U.K. politicians want to negotiate participation only in certain parts of the market, Egan said that the E.U. cannot make concessions for one member without opening itself up to doing the same to others.
"We will see much more regulation. It will be messy," in post-Brexit Europe, suggested Robin Lumsdaine, professor in the AU Kogod School of Business. "There will be a hit to the U.K. economy when the exit happens, regardless of how that happens. Every agreement will have to be renegotiated. The amount of resources that requires is large."
In the transition, the courts play a key role. "It is a very legalistic process," said AU Law Professor Fernanda Nicola. "The judicial branch has to provide checks and balances on top of interpreting and making sure the rule of law is respected. There should be clear, transparent procedures even if this is an unknown process."
Other speakers at the event included Laura Beers, associate professor in CAS; Garret Martin, lecturer at SIS; and SIS Associate Dean Carolyn Gallaher.
James Zanghi, SPA/BA '19, MPP '21, was one of many students attending the event, in the hopes of learning more. "There have been so many deadlines and international meetings, it's been hard to keep up with all the puzzle pieces. It showed me that the policy minutia is extremely important," said Zanghi. "I thought this was an awesome opportunity because the first panel dealt with the economic and legal situation and the second was about politics and communications. It perfectly tied into my CLEG major and strategies to think about as I build my capstone project."