On Campus
Bob Briggs Honored for Staff Member Lifetime Achievement Award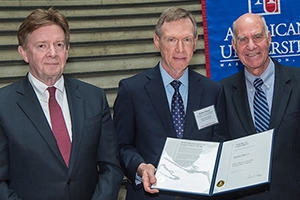 In recognition of 30 years of service advising and mentoring students at AU School of Public Affairs, Academic Counselor Bob Briggs was recently honored with American University's 2017 Maria Bueno Lifetime Achievement Award.
Briggs is currently the academic counselor to government graduate students and Ph.D. students in SPA. He began his career as an advisor in 1987, supporting undergraduate students majoring in Political Science and communications, law, economics, and government (CLEG).
"Bob works hard to ensure that graduate students understand the graduate regulations and can navigate the system to successfully complete their programs," said SPA Interim Dean Vicky Wilkins. "Bob is a valuable resource for our students while they are in the program and beyond. I am grateful for his commitment to the school and the university."
"I knew the graduate program was right for me after meeting and speaking with Bob," said Jose De Bastos SPA/MA'17. "Throughout my time at SPA he was always available and he gave me great advice about classes, professors, and work opportunities, even after I graduated."
Briggs helped Terence Szuplat (SPA/BA '95) as an undergraduate at SPA. Szuplat, who went on to become a speechwriter for President Barack Obama for eight years, says that Briggs helped him choose the right classes, encouraged him study abroad, where he interned for a member of the British Parliament, and connected him to the White House speechwriting office where he worked as an intern.
"I can say without hesitation that those opportunities simply would not have been possible without the encouragement and mentorship of Bob Briggs over many years," said Szuplat. "Bob helped me set my sights higher, spark my career, and shape my life."
Briggs also worked with Scott Goodstein SPA/BA '95 in the early 1990s. Goodstein said that Briggs recommended internships and night classes that allow him craft his own career path.
"Bob never took a cookie-cutter approach to my education needs and truly understood that I wanted to pursue a unique career in campaign management that was not your standard nine to five job," said Goodstein, CEO and founder of Revolution Messaging in Washington.
"For me, the greatest enjoyment has come from getting to know the students over the years and see their careers develop," said Briggs. "Many have gone on to achieve some rather remarkable things."
Briggs says more than his influence, the training and education that AU provides are what's most important to graduates' careers.
"Many of our students have been successful because they have taken the lessons they learned here and applied them in the working world," said Briggs. "They don't need a lot of advice from me. They do need the good educational foundation and experience that they get here. "
At AU, Briggs has also worked on a variety of projects, including the Campaign Management Institute, the Public Affairs and Advocacy Institute, the Bryce Harlow Foundation Fellowship Program, the Pi Sigma Alpha Political Science Honors society, and the MA program in Political Communication (a joint SPA/SOC program).
Briggs has previously been recognized with several awards from SPA and the university at large, including Outstanding Staff Performance (1990, 1992), Outstanding Service to the University Community (1999), Outstanding Service to the SPA community (2006), and the Award for Outstanding Customer Focus (2010).